...

Indigenous Engagement Strategy and Reporting
Indigenous Outcomes
Indigenous Engagement Strategy and Reporting
When making Investment Decisions, the NAIF Board must be satisfied that the proponent has met all mandatory eligibility criteria, including the Indigenous Engagement Strategy criterion.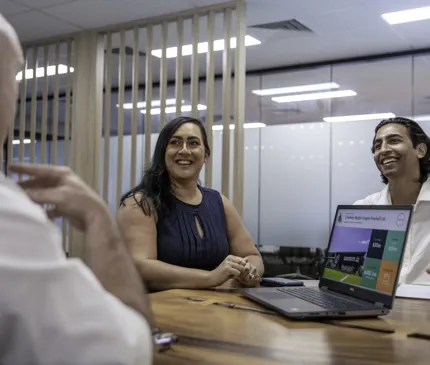 A successful Indigenous Engagement Strategy is one that offers suitable opportunities for participation, procurement, and employment, aligning with the specific Indigenous communities in the region. 
This should be in line with the project's scale, location, and nature, as well as the proponent's existing operations and capacity.

The Indigenous Engagement Strategy Guideline provide practical advice to proponents in the development of a satisfactory Indigenous Engagement Strategy, including how NAIF assesses the strategy, the ongoing reporting requirements and details on the Indigenous Engagement Strategy clause providing an incentive for performance.
Process
NAIF looks for an Indigenous Engagement Strategy to:
Identify the opportunities the project provides for local Indigenous participation, procurement, and employment.
Detail strategies and actions that can enable those opportunities to be taken up by Indigenous people.
Provide opportunities across the construction and operational phases of the project, as appropriate for the project and commensurate with the length of the NAIF loan.
Be tailored to provide opportunities to local Traditional Owner groups and the regional Indigenous population, as appropriate to the community, region and the project.
Be informed by relevant, existing documents, including, for example, Native Title and other agreements, Indigenous Land Use Agreements, Reconciliation Action Plans, and existing engagement, training, education, employment and procurement initiatives, policies and operations.
The Indigenous Engagement Strategy may also help in structuring engagement with stakeholders which is vital to the implementation of the strategy.
Reporting
Proponents are required to regularly report on their Indigenous Engagement Strategy performance to NAIF. This is typically every six months during the construction phase and annually in the operational phase, for the length of their loan.
Indigenous Engagement Strategy documents typically contain commercially and culturally sensitive or otherwise confidential information, which must be carefully considered before being published. View our projects page to learn more about the strategies that are implemented and the outcomes that are achieved through financing with NAIF.
Further information on NAIF projects is available at Our Projects.
Find out more
Whether you're interested in understanding our investment process, exploring the Investment Act and Mandate that guide our decisions, utilising our Indigenous Engagement Strategy Toolkit, or seeking answers to frequently asked questions, we've got you covered. Click on our quick links in this section to discover more about our mission and impact.