NAIF approves seventh deal in Northern Territory with loan to new gas and solar projects
The Northern Australia Infrastructure Facility (NAIF) is pleased to announce investment approval of its seventh project in the Northern Territory, with a $37 million loan to help construct new power generating facilities.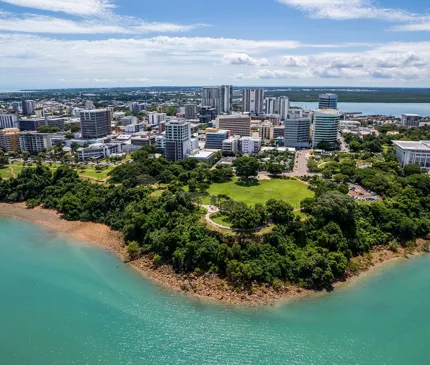 The NAIF loan to Australian-based investment manager Merricks Capital Pty Ltd will help fund:
Hudson Creek Power Station, a 12MW capacity gas power plant in Darwin, and
Batchelor Solar Farm, a 10MW capacity solar farm, 100km south of Darwin
Power generated by the facilities will provide Rimfire, the largest private electricity retailer in the Territory, with up to 90 per cent of its future electricity generation needs. A total of 162 jobs will be created during construction.
Other benefits include the introduction of modern solar and gas generation infrastructure into the NT electricity network which is currently predominantly reliant on older, more expensive and less efficient gas and diesel generators and a contribution towards the NT's renewable energy target of 50 per cent by 2030.
Under the terms of NAIF's funding, the proponent will work with the Larrakia Nation Aboriginal Corporation (LNAC) to deliver cross cultural awareness training to employees and contractors and a range of other initiatives.
NAIF's latest approval means more than $830 million in loans have been announced to seven projects in the Territory, through either full or conditional loan approvals. These projects will support more than 2,900 jobs and generate more than $2 billion in forecast net economic benefit.
Welcoming the loans to Merricks, NAIF CEO Chris Wade: "We are delighted to support Merricks with funding towards an exciting power generation project that promises to deliver modern, more efficient and cleaner power generation in the Territory."
"NAIF has now approved or conditionally approved more than $830 million in funding to projects in the Territory with more deals on the way. It is an exciting time for development in the Territory and we look forward to working with stakeholders and key partners regarding further investment in the months ahead."
Merricks Capital CEO Adrian Redlich said he was delighted to be partnering with NAIF. "The commitment of NAIF to support the private sector in delivering cheaper and greener power is a perfect example of how Australia can replenish its aging power fleet and do our part for the environment" he said.
Since starting operations in August 2016, NAIF's total loan approvals across northern Australia is $2.2 billion. Working with State and Territory governments, over $900 million of deals have subsequently closed, with those funds available to be drawn as required by proponents.
NAIF's mandate was recently extended by the Minister for the Resources, Water and northern Australia until 2026. The extension will allow NAIF to deliver more investment into the region and play a critical role in the Commonwealth Government's broader agenda on economic development in the north.
NAIF sees itself as being a key partner in the development of northern Australia, whether through loans to new projects, working with existing financing partners or bringing together stakeholders to develop totally new initiatives.