...

Transport and Logistics
Sectors we support
Transport and Logistics
The challenges posed by the vast distances, rugged terrain, and climatic conditions in northern Australia require innovative approaches to transportation and logistics.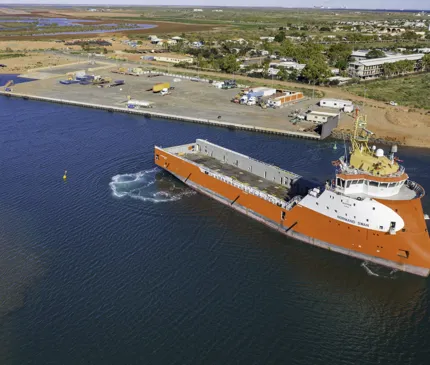 The efficient movement of goods, people and resources is essential to unlocking the north's economic and social potential. The transport and logistics sector encompasses a wide range of activities and services that play a crucial role in facilitating trade, supporting economic activities, and connecting communities. 
The sector also supports the growth of key industries such as agriculture, mining, tourism, defence and manufacturing, which all contribute to the economic and social prosperity of the region.
Ports and Harbours
Ports and harbours help facilitate the movement of goods and people, support the development of regional industries and communities, and enhance the national security and defence capabilities of the north.
Northern Australia boasts abundant natural resources including iron ore, coal, gas, gold, copper, and lithium, which are exported globally via hubs such as Port Hedland, Darwin Port, and Townsville Port. These ports not only drive regional economies but also foster local employment and serve as pivotal points for tourism, fishing, agriculture, and various industries reliant on market access, supplies and services.
Airports and Air Travel
Airports and air travel connect the north to the broader country and the global landscape, facilitating the movement of people, goods, and services that underpin economic growth, social unity, and cultural diversity. Airport facilities also drive tourism, a vital economic contributor for northern communities, showcasing the area's natural and cultural diversity. 
More importantly, air transport ensures access to essential services such as healthcare, education, and emergency response in remote northern areas, positively impacting both residents and visitors. Given northern Australia's strategic position, airports and air travel bolster national security and defence capabilities, supporting military operations, cooperation with allies, and regional stability.
Efficient and modern airport facilities are vital for promoting tourism, facilitating business travel, and enhancing the movement of goods, all of which contribute to regional economic growth and public benefit.
Our investment in transport and infrastructure is vital for boosting connectivity to global markets, raising residents' quality of life, and fostering crucial sectors including energy, mining, agriculture, manufacturing, tourism, and education. It also effectively addresses the challenges and opportunities arising from the region's geographical remoteness.
Find out more
Whether you're interested in understanding our investment process, exploring the Investment Act and Mandate that guide our decisions, utilising our Indigenous Engagement Strategy Toolkit, or seeking answers to frequently asked questions, we've got you covered. Click on our quick links in this section to discover more about our mission and impact.