Onslow Marine Support Base
Onslow Marine Support Base
Explore NAIF's vital role in accelerating the Onslow Marine Support Base project, driving economic growth and job opportunities in Western Australia.
Investment Decision
September 2017
Sector
Social Infrastructure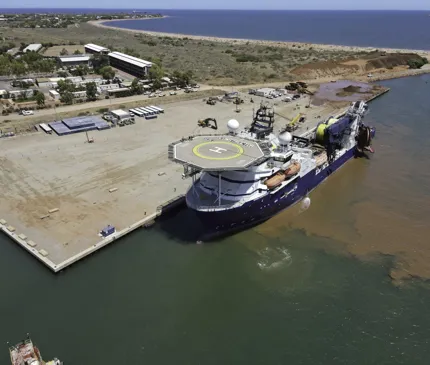 LOAN DETAILS
NAIF Loan Amount up to
$16.8m
Total Project Value
$120.5m
Length of Loan
10 years
PUBLIC BENEFIT
$100m
Forecast Jobs
227
Project Status
Operational
Onslow Marine Support Base (OMSB) is a strategic marvel nestled in Onslow, Western Australia. NAIF financing played a pivotal role in expediting the project's comprehensive scope, making an immediate impact and unlocking Onslow's potential.
About Onslow Marine Support Base
The Onslow Marine Support Base is a pivotal facility catering to the needs of diverse offshore industries, with a primary focus on the oil and gas sector. 
Operating as a vital port and logistics hub, the support base serves as a central point for the transportation of personnel, equipment and essential supplies to and from offshore facilities. 
Its comprehensive range of services ensures seamless operations and plays a crucial role in bolstering the activities of the offshore energy sector within the region.
Project overview
The OMSB facility upgrade encompassed several key components, such as a wharf, training wall upgrade, and expansion of the inner/harbor channel. This expansion project involved capital construction for both the channel and turning basin.
This multi-user facility serves as a comprehensive resource, offering chandlering services, heavy lift capabilities, reverse logistics support, refueling options, transportation solutions, freight services, and emergency assistance. Its primary purpose is to provide essential support to onshore and offshore industries operating in the middle and southern regions of the Carnarvon Basin.
How we helped
NAIF's support helped to unlock the economic potential of the whole project by overcoming current depth limitations on the range of vessel serviceability.
All vessels supporting the operations of the offshore oil and gas industry in the region will now be able to access the new base, providing greater efficiency.
NAIF financing was integral to the immediate delivery of the full project scope (accelerated by 3-5 years). NAIF used its risk appetite to complement private lender National Australia Bank.
Public impact
The Onslow Marine Support Base project is expected to yield substantial economic benefits for Western Australia, with a projected $100 million benefit over a 10-year period. This includes a notable 45% increase in the local Gross Regional Product compared to the figures from the 2011 census. These economic advantages are also expected to extend to the broader Onslow and Ashburton communities.
In terms of employment, the project estimates that it will create 61 jobs during the construction phase and 166 jobs during its operational phase. This represents a significant boost to the local workforce and economic activity.
Furthermore, the facility is anticipated to deliver significant advantages in terms of productivity, time efficiency, and fuel savings, ultimately reducing costs for local operators and mitigating operational risks. Additionally, it will help retain and capture services that might otherwise be outsourced overseas.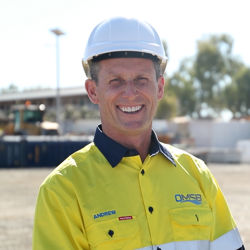 Indigenous Engagement
Traditional owners of this land
The Thalanyji people are the Traditional Owners of the land on which OMSB is located. The Thalanyji people traditionally inhabited lands that cover a portion of the south-western Pilbara region, extending from the Ashburton River coastal plain, towards Tubridji Point in the south, and across to the Yannarie River. 
Thalanyji country is geographically diverse and includes the coast, coastal plains, rivers and streams, ranges and salt lakes. The Thalanyji people's Native Title claim, which covers an area of 11,120 km², was determined and recognised by the Federal Court in 2008.
Indigenous Engagement Strategy Commitments
Onslow Marine Supply Base's IES includes commitments in key areas such as participation, employment, procurement and community development. 
Key participation including employment and procurement commitments include a commitment to engage with Indigenous communities to explore partnerships opportunities with other businesses, as well as active engagement with Indigenous suppliers, contractors and businesses that employ local Indigenous workers. OMSB are also committed to establishing an ongoing direct relationship with Buurabalayji Thalanyji Aboriginal Corporation (BTAC) at the CEO and Board levels, with regular engagement to discuss economic and social development opportunities, aspirations, and priorities. 
Overarching commitments include developing cultural protocols to provide effective and respectful communication with the Thalanyji people, and a commitment to deliver cultural awareness training to all operation staff working on the project in conjunction with BTAC.
Indigenous Engagement Strategy
Outcomes
Some of the key outcomes delivered from Onslow Marine Supply Base's IES to date includes the provision of a five-year cleaning contract to BriJarCass, a local Indigenous owned cleaning business based in Onslow. 
OMSB have also supported BTAC in establishing joint venture businesses, such as Kuuwa, and providing them with ongoing supply contracts to support operations on the project and are continuing to explore possible future joint venture opportunities with BTAC to expand into new industries such as supply, logistics and transport.