GOVERNANCE
Sustainability
Learn how NAIF is addressing climate change, promoting ecologically sustainable development, and advancing environmental and social responsibilities in line with Australia's sustainability objectives.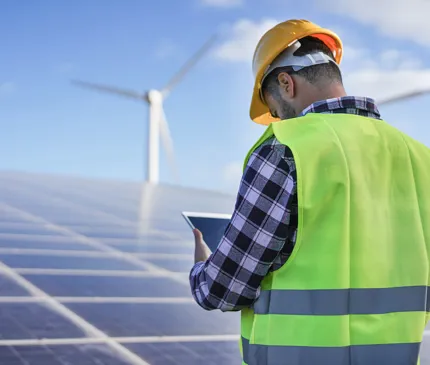 Environmental Reporting 
NAIF recognises the impact of climate change on our business and communities, and supports Government policy and carbon reduction targets. In recognition of this, we appointed a Chief Sustainability Officer
to lead a program of work to strengthen the overall assessment of climate risks, alongside the ongoing design, implementation, and sequencing of standardised requirements for climate disclosure in Australia.
Northern Australia is unevenly affected by climate related physical and transition risks, and we continue to further integrate these risks and the opportunities they create in our operations in line with the Risk Management Framework.
Environmental, Social and Governance
During FY2022-23, NAIF became an Associate Member of the Australian Sustainable Finance Institute (ASFI) as we continue to proactively elevate our environmental, social and governance (ESG) responsibilities.
Our sustainability ambition is in line with our purpose to contribute to the nation by proudly investing in the growth of northern Australia. NAIF is continuing to develop its inaugural Net Zero Strategy and sustainability position statement, including a road map to help us achieve an ESG ambition that supports a more sustainable future.
Through a sustainability lens, we will also continue to develop activities being implemented across our business, and increase our focus on how we create value for all our stakeholders, including employees, proponents and communities.
High priority areas include:
Decarbonisation and the clean energy transition;
Job creation and socioeconomic responsibility;
First Nations peoples and community engagement;
Skilled and diverse workforce;
ESG reporting.
Ecologically Sustainable Development
Although the NAIF Act does not refer to environmental matters, the Environment Protection and Biodiversity Conservation Act 1999 (Cth) (EPBC Act) requires NAIF's annual reports to deal with such matters.
Section 516A(6) relevantly requires that NAIF's annual report for a period: include a report on how its activities accord with the principles of ecologically sustainable development (ESD principles); document the effect of its activities on the environment; identify any measures it is taking to minimise the impact of its activities on the environment; and identify the mechanisms (if any) for reviewing and increasing the effectiveness of those measures.
Consideration of the environmental impact of our activities is a part of the way we make decisions and do business in compliance with Australia's legislative landscape.
Environmental Footprint
Enterprise Environmental Performance Summary
As part of the reporting requirements and in line with the Government's APS Net Zero 2030 policy, all corporate Commonwealth entities are required to publicly report on the emissions from their operations, commencing with public reporting of 2022-23 emissions in their annual
reports. Entities will be able to consistently measure and report on their emissions using tools and guidance developed by the APS Net Zero Unit in the Department of Finance.
NAIF has developed an emissions model to capture and report a greenhouse gas (GHG) emissions baseline for operational activity, calculated in accordance with the requirement of the Department of Finance. This model incorporates emissions from operations (referred to as Scope 1 and 2 emissions) – principally, electricity consumption in leased and serviced offices.
Additionally, selected emissions from sources not owned or controlled by NAIF (Scope 3 emissions) are reported. 
The major source of emissions comes from business travel across the country in delivering on our purpose. This model is used to identify and prioritise initiatives that will inform a GHG emissions target in line with climate science. Initiatives will include reducing NAIF's demand
for energy by improving energy efficiency in our office locations, investigating alternative sources of renewable energy, and working collaboratively with our suppliers and other stakeholders.
Travel and Transport
NAIF supports the use of sustainable travel to commute to and from work, such as walking, cycling or public transport. NAIF sites provide end-of-journey facilities including secure bike parking, showers and lockers. 
NAIF does not offer corporate car parking or corporate vehicles to employees, supporting the emissions reporting across scope 1.
Physical Footprint and Energy Efficiency
NAIF utilises serviced office arrangements to minimise our footprint for our smaller satellite locations. Currently, 5 out of the 6 NAIF offices are located in a building with a NABERS rating of 3.5 star or better. NABERS is a simple, reliable sustainability rating for the built environment that provides a rating from one to six stars for buildings efficiency across energy, water, waste and indoor environment.
Sustainability Initiatives
Current

Future

NABERS ratings disclosure (across water and power, if available) on each property
Open plan offices and central air conditioning
Paper generally from Australian Forestry Standard Certified production
Employees have portable devices including phones and computers
Central printing facilities, allowing for fewer devices (which have energy-saving mode when not in use)
Use of technology for working from home, meetings and training
'Follow me' printing system is installed to reduce paper consumption, with default printing set to double-sided, black and white across all office locations
Staff are encouraged to limit printing 
Recycling of e-waste, paper and plastic
Electronic distribution of papers and briefings to board members

Purchasing 100% recycled A4 paper, 100% recycling of paper waste and recycling of other stationery items
Explore further renewable electricity
options to realise a decrease of our Scope 2 emissions
Development of social and sustainable procurement
principles and guidelines
Research social value measurement frameworks to
inform planned approach for delivering and measuring impact of social sustainability initiatives
Electronic workflows aimed to reduce the use of paper and the need to retain paper copies
Energy-saving features of the Windows Operating
System
Cloud services to reduce both power consumption and computer hardware requirements
Power-saving features on computer monitors and
televisions
Central bin facilities only, no personal bins to encourage low waste production (in NAIF-managed offices).
Environmental and Social Review of Projects Policy
NAIF provides grants of financial assistance (principally to State and Territory governments) for the development of northern Australia economic infrastructure.
Section 16 of the Investment Mandate requires NAIF to provide financial assistance only where a proponent has obtained all relevant regulatory, environmental and native title approvals and arrangements as required by the relevant jurisdiction.
NAIF's activities accord with ESD principles and best practice corporate governance through the application of its Environmental and Social Review of Projects Policy (ESR Policy). The ESR Policy ensures that each project submitted for an Investment Decision has been assessed through environmental and social diligence. It relevantly provides that the due diligence processes leading to an Investment Decision must include an assessment of environmental and social impacts (E&S Impacts), which assessment is considered along with the public benefit assessment referred to in NAIF's Public Benefit Guideline.
That guideline provides guidance on how NAIF will assess the public benefit of each project, including its consideration of both beneficial and adverse environmental and social impacts (where appropriate), alongside a range of other short and long term economic, and social considerations for each
proposed project.
The ESR Policy is the policy by which NAIF provides for fundamental consideration of environmental impacts (including with respect to biological diversity and ecological integrity). The ESR Policy mandates that E&S Impacts must be considered when conducting due
diligence of each project, the findings of which must be considered in making any Investment Decision. As part of that process, NAIF must consider the reasonableness and likely effectiveness of each project proponent's intended mitigation of adverse E&S Impacts.
Section 18(a) of the Investment Mandate also requires NAIF to have regard to best practice government governance principles, and Australian best practice corporate governance for Commercial Financiers when performing its functions, and to develop and annually review policies with regard to environmental, social and governance issues. NAIF's ESR Policy has been prepared, and is implemented, in accordance with this requirement.
Evolving Climate Disclosure Landscape
NAIF notes that there is a consultation process currently being undertaken by Government in respect of the private sector and Commonwealth entities such as NAIF, in relation to climate risk disclosure.
We understand that that process is premised upon the Government's commitment to introduce standardised, internationally aligned disclosure requirements – including in relation to greenhouse gas emissions. NAIF supports that consultation process and will engage constructively with Government in that process.
Find out more
Whether you're interested in understanding our investment process, exploring the sectors we support, utilising our Indigenous Engagement Strategy Toolkit, or seeking answers to frequently asked questions, we've got you covered. Click on our quick links in this section to discover more about our mission and impact.