How & where we invest
Investment Process
Project proponents are encouraged to review this process, the NAIF mandatory eligibility criteria and our Frequently Asked Questions prior to providing NAIF with information. Based on a review of this information, if you believe your project might be eligible for NAIF finance, please email us the details of your project (including scope, size and status). A member of our team will contact you as soon as possible.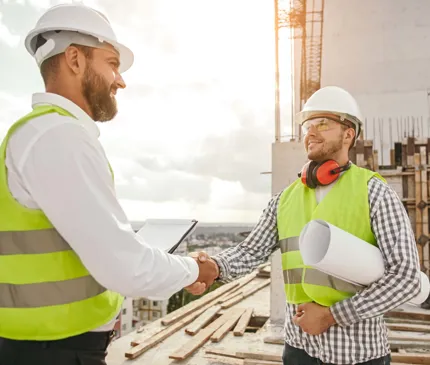 Our Investment Journey

If you are considering applying for finance from the Northern Australia Infrastructure Facility (NAIF), please review the process, the mandatory eligibility criteria, and the Frequently Asked Questions before providing us with information about your project. If you believe your project might be eligible for NAIF finance, please email us the details of your project, including scope, size, and status. A member of our team will contact you as soon as possible.
Early and Advanced Assessment
During the initial review phase, we will evaluate your project against our mandatory eligibility criteria. If we conclude that the project has the potential to meet these criteria, we will undertake a Strategic Assessment, evaluating your project against our strategic assessment considerations. For eligible projects, we will prepare a Strategic Assessment Paper (SAP) and present it to NAIF's investment review bodies.
Our strategic assessment considerations include:
The capabilities and track record of the proponent, sponsors, management, and consultants.
The development or enhancement of infrastructure in, or with significant benefit for, northern Australia.
The pathways for the project to be fully funded, including the availability of equity to support the project and whether credible co-financiers have been identified.
If there is a sufficiently developed and viable business case that enables financial close to occur within a reasonable time.
Revenue certainty and realistic operating-cost forecasts that support debt repayment.
The project's executability, including a strategy to achieve close within a reasonable timeframe.
An assessment of environmental and social considerations in accordance with our Environment and Social Review of Transactions Policy.
The potential for the project to meet NAIF's Public Benefit Guidelines and Indigenous Engagement Strategy guidelines.
The need for NAIF funding for the project.
Please note that this step does not constitute an Investment Decision, nor is it an offer of finance. It does not guarantee that the NAIF eligibility criteria will be met, nor is it an endorsement of any specific terms or conditions. Relevant government stakeholders (Commonwealth, State, and Territory) will be consulted and informed.
Personal information collected, or processed on our behalf, is required for the
purposes of assessing the project application for NAIF support, to verifying
information provided in the project application. The information will be used for ongoing activities related to our functions and obligations under relevant legislation.
Privacy Collection Notice - Applications
Due Diligence
During the due diligence phase we will undertake detailed project due diligence, including project, financial, and credit risk analyses, as well as technical, environmental, and social risk analyses.
NAIF Environmental and Social Review of Projects Policy (ESR)
Our ESR Policy is an essential component of the NAIF assessment and approval process. The policy requires that all projects undergo a rigorous assessment to ensure they meet specific environmental and social criteria. The assessment includes an evaluation of the project's potential impact on the environment, including direct and indirect environmental effects, as well as an evaluation of social impacts, such as the project's impact on local communities, employment, and other socio-economic factors. The policy ensures that projects funded by NAIF are sustainable and have a positive impact on the environment and the communities they serve.
NAIF Act and Investment Mandate
We will work collaboratively with you and any co-financiers (if applicable) to develop appropriate terms and conditions for NAIF's finance. We must assess whether the proposed transaction satisfies all the requirements of the NAIF Act and Investment Mandate.
The Northern Australia Infrastructure Facility Act 2016 establishes the legal framework for NAIF's operations, including our mandate to provide financial assistance to infrastructure projects that will promote economic and social development in northern Australia. NAIF's Investment Mandate sets out the specific criteria and requirements for projects seeking NAIF finance, including the need to demonstrate public benefit, Indigenous engagement, and environmental and social responsibility. NAIF is required to ensure that all projects we fund undergo a rigorous assessment and approval process to ensure compliance with our Act and Investment Mandate.
We will carry out additional consultation with relevant Commonwealth, State, and Territory government stakeholders. Where NAIF financing will be greater than $250 million, NAIF will consult with Infrastructure Australia.
Undertake a Public Benefit Assessment
To ensure that NAIF-funded projects deliver positive outcomes for the public, we require project proponents to undertake a Public Benefit Assessment as part of the application process. The Public Benefit Assessment involves an analysis of the expected social, economic, and environmental benefits that the project will bring to the region.
The assessment considers factors such as job creation, capacity building, community engagement, Indigenous participation, and sustainability. By requiring project proponents to demonstrate public benefit, we aim to ensure that NAIF investments contribute to the long-term development and prosperity of northern Australia.
Develop an Indigenous Engagement Strategy
Proponents are required to collaborate with NAIF in developing an Indigenous Engagement Strategy to ensure that the Indigenous communities in northern Australia have opportunities to participate in, and benefit from, infrastructure development in the region.
The strategy sets out principles for engagement, including recognition and respect for the unique culture, history, and aspirations of Indigenous people. It also highlights the importance of meaningful consultation and collaboration with Indigenous communities. The strategy aims to identify and address any potential adverse impacts on Indigenous Australians resulting from infrastructure development projects. The Indigenous Engagement Strategy is an important part of NAIF's commitment to social responsibility and sustainability.
Submit a Formal Investment Proposal
The Formal Investment Proposal is the final step in the NAIF assessment and approval process.
It is a detailed submission made by the project proponent that includes documentation of the project, its funding requirements, the proposed terms and conditions of NAIF's finance, as well as assessments of public benefit and Indigenous engagement strategies. The proposal is reviewed by NAIF's investment review bodies and, if all criteria are met, an Investment Decision is sought from NAIF's Board.
Ensure You Comply With The Australian Industry Participation Plan
The Australian Industry Participation (AIP) Plan is an Australian Government initiative aimed at promoting and encouraging the participation of Australian businesses in major public and private-sector projects.
The AIP Plan aims to maximise opportunities for Australian industry, improve access to information on major projects, ensure the consideration of Australian industry capabilities in procurement, and to create a level playing field for Australian industry in accessing supply-chain opportunities. For NAIF loans of $20 million or more, proponents will need to comply with the AIP Plan policy.
Work Health and Safety Accreditation Scheme
The Australian Government's Work Health and Safety Accreditation Scheme aims to encourage a culture of health and safety in the construction industry and to reduce the incidence of workplace accidents and injuries.
Under the scheme, entities that are involved in Commonwealth-funded construction work, or provide construction-related goods or services, are required to have accreditation from a recognised accreditation body. This involves a comprehensive assessment of an entity's safety-management systems and processes. Those that meet the required standards are awarded accreditation status.
Investment Decision
Ministerial Consideration Period
If the NAIF Board makes an Investment Decision to offer finance, the responsible federal minister has a consideration period during which the minister may veto the project (on specific grounds specified in the NAIF Act).
For projects that will be financed via a state or territory, the relevant government must confirm its support.
The negotiation and execution of legal documentation and the satisfaction of any conditions to NAIF financing is required before a project can receive funding.
Contractual Close
Contractual close refers to the phase in which all legal, financial, and administrative aspects of a project are finalised and documented within the formal agreements between involved parties.
During this phase, the project's stakeholders, including contractors, financiers, government entities, and other relevant parties, come to a consensus on the terms, conditions, and responsibilities outlined in the contracts. This marks the point where the project transitions from the planning and negotiation stage to the actual implementation phase.
Contractual close ensures that all parties are aligned on the project scope, budget, timelines, risk allocation, and other critical details, setting the foundation for successful project execution. It signifies a pivotal moment in the project lifecycle, providing the legal framework that governs the relationships, obligations, and rights of the various entities involved, thereby facilitating the efficient and effective realisation of the infrastructure project.
Financial Close
During financial close, all financial agreements, contracts, and commitments are formalised, and the necessary funds are either transferred or made accessible for the intended use.
This phase is essential for initiating project activities, as it ensures that the financial aspects are in place and that stakeholders have the financial backing required to move forward. Financial close is a critical milestone, indicating that the project is financially sustainable and can proceed to the loan management stage with the necessary resources and support.
Loan Management
Once legal documentation has been executed and any conditions to NAIF financing have been met, funds are transferred to the proponent's account.
NAIF closely monitors compliance with any financing conditions and the delivery of the project, including with respect to financial, environmental, and Indigenous Outcome performance. In the case of debt financing, the proponent repays the loan under an agreed schedule. In the case of equity, NAIF will exit or monetize its investment over the medium term. The portfolio management team maintains ongoing engagement with proponents and provides the necessary support and guidance to ensure they fulfill their obligations effectively.
Find out more
Whether you're interested in understanding our investment process, exploring the Investment Act and Mandate that guide our decisions, utilising our Indigenous Engagement Strategy Toolkit, or seeking answers to frequently asked questions, we've got you covered. Click on our quick links in this section to discover more about our mission and impact.