How & where we invest
Northern Territory
The Northern Territory (NT) of Australia is characterised by unique factors such as its vast landscapes, small population, and significant Indigenous population.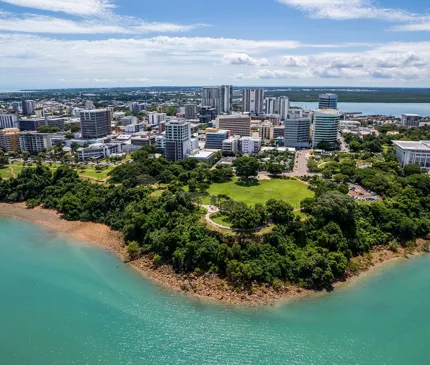 8
Investment Decisions
$747.4m
Current Loan
$2.5bn
Total Public Benefit
3,612
Jobs
The Northern Territory is rich in mineral resources, including gold, rare earths, and critical minerals. The mining and resources sector has historically been a significant contributor to the Northern Territory's economy. The region is a major player in the natural gas industry, with large liquefied natural gas production facilities.
The Northern Territory is renowned for its natural beauty and iconic attractions such as Uluru (Ayers Rock), Kakadu National Park, and the stunning landscapes of the outback. Tourism is a vital sector, attracting both domestic and international visitors.
While limited by its arid climate, certain areas in the Northern Territory support agriculture, including cattle grazing and horticulture, especially in more fertile regions.
Given the remote and vast nature of the Northern Territory, infrastructure development, including roads, utilities, and housing, plays an important role in connecting communities and fostering economic growth.
The Northern Territory's remoteness poses challenges for transportation, distribution, and access to goods and services, which in turn impacts the cost of living and doing business in the region.
The Northern Territory's vast land area and ample sunlight present opportunities for renewable energy development, including solar power projects and research into advanced energy technologies.
Given its proximity to Asia, the Northern Territory actively fosters trade and investment opportunities with neighbouring countries.
Find out more
Whether you're interested in understanding our investment process, exploring the Investment Act and Mandate that guide our decisions, utilising our Indigenous Engagement Strategy Toolkit, or seeking answers to frequently asked questions, we've got you covered. Click on our quick links in this section to discover more about our mission and impact.