Merricks Capital
Hudson Creek Power Station and Batchelor Solar Farm
Explore how Merricks Capital's $37 million NAIF loan is driving the development of a 12MW gas power plant and 10MW solar farm in the Northern Territory, boosting energy efficiency and creating jobs while supporting the region's renewable energy goals.
Investment Decision
July 2020
Location
Darwin region, NT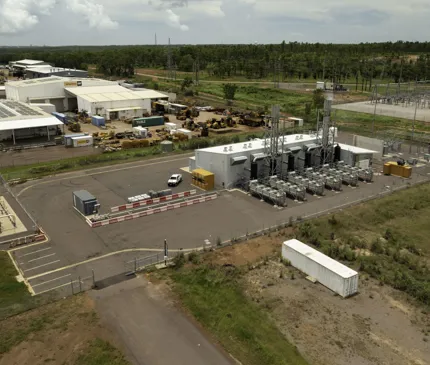 LOAN DETAILS
NAIF Loan Amount up to
$37m
Total Project Value
$74m
Length of Loan
9 years
PUBLIC BENEFIT
$224m
Forecast Jobs
196
Project Status
Financial Close
A loan to finance a 12 MW gas power plant in Darwin and 10 MW solar farm in Batchelor, 100 km south of Darwin. Merricks Capital is the equity sponsor.
About Merricks Capital
Founded in 2007, Merricks Capital is a prominent investment management firm based in Melbourne, Australia. With a core focus on prudent fund and investment management, the company navigates diverse avenues encompassing real estate, infrastructure, and credit investments.
Merricks Capital excels in pinpointing exceptional investment prospects, strategically allocating capital to yield substantial returns for its clients and investors. This adeptness extends to financing real estate endeavours, steering infrastructure development, and offering vital credit solutions to businesses.
Project overview
NAIF's investment will help fund:
Hudson Creek Power Station, a 12 MW capacity gas power plant in Darwin, and
Batchelor Solar Farm, a 10 MW capacity solar farm, 100 km south of Darwin
Power generated by the facilities will provide Rimfire, the largest private electricity retailer in the Territory, with up to 90% of its future electricity generation needs.
How we helped
NAIF's loan for the Hudson Creek Power Station and Batchelor Solar Farm will help modernise Darwin's energy networks and reduce reliance on older and less-efficient gas and diesel generators.
Public impact
The project is forecast to create 162 jobs during construction, and 34 ongoing jobs. Total project value is forecast as $74 million, with public benefit predicted to be $224 million.
Other benefits include the introduction of modern solar and gas generation infrastructure into the NT electricity network, which is currently predominantly reliant on older, more expensive and less efficient gas and diesel generators. The project will also help the NT meet its renewable energy target of 50% per cent by 2030.
Indigenous Engagement
Traditional owners of this land
The Larrakia people are the Traditional Owners of Garramilla (Darwin) region where the Hudson Creek Power Station is located. The Larrakia people traditionally inhabited lands that extend from the Cox Peninsula in the west, towards Gunn Point in the north, Adelaide River in the east, and towards Manton Dam in the south. Their lands extend over Darwin and Palmerston, which are the two largest cities in the Northern Territory.
The Kungarakan people are the Traditional Owners of the lands on which the Batchelor Solar Farm is located. The Kungarakan people traditionally inhabited the land to the south of Darwin Harbour. Their country extended from Berry Springs, south-west towards Litchfield Park, north-west towards Wagait, and south-east towards Adelaide River, including the town of Batchelor. Kungarakan country also covers much of Litchfield National Park, which is a popular tourist destination.
Indigenous Engagement Strategy
Commitments 
Merricks Capital's Indigenous Engagement Strategy (IES) encompasses commitments in crucial areas such as participation, employment, procurement, and community development. 

Among the key community development commitments, Merricks Capital is dedicated to collaborating with Larrakia organizations. They aim to deliver cross-cultural awareness training and cooperate on Larrakia-run programs and projects. Additionally, Merricks Capital has committed to providing sponsorship to local Indigenous organizations or events in the Darwin region, demonstrating their support for the community. 
Merricks Capital has also pledged to become an Ally member of the Northern Territory Indigenous Business Network (NTIBN). They aim to establish an MC Power/NTIBN Partnership as part of the IES. This partnership will actively support Indigenous procurement and participation, incorporate culturally appropriate protocols and activities, and provide community support for the project. 
Within the framework of the MC Power/NTIBN partnership, there is a commitment to establish a renewable energy Indigenous ecosystem forum. This forum will convene biannually to explore opportunities for collaboration, skills transfer, and innovation in the field of renewable energy. 
Merricks Capital is committed to providing financial support to enable Indigenous electricians to acquire clean energy regulator certification, contributing to skills development within the Indigenous workforce.