NT Government
Territory Infrastructure Loans
Explore the impactful partnership between the Northern Territory Local Jobs Fund and NAIF, boosting local employment and infrastructure growth. Learn about Territory Infrastructure Loans, eligibility, and public impact.
Investment Decision
September 2021
Sector
Financing Partnerships
Location
Northern Territory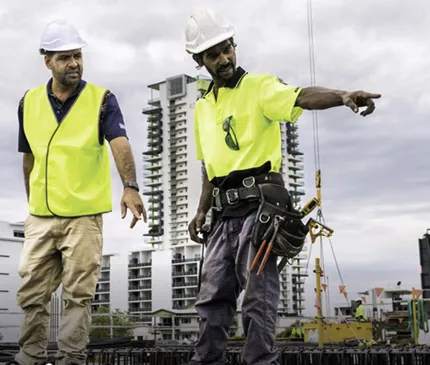 LOAN DETAILS
NAIF Loan Amount up to
$50m
Total Project Value
$66.7m
Length of Loan
12 years
PUBLIC BENEFIT
$110.1m
Forecast Jobs
532
Project Status
Financial Close
NAIF's loan is to the Northern Territory Government. The project is a proposed financing partnership with the Northern Territory Local Jobs Fund to deliver a growth capex concessional lending program in the Northern Territory (Territory Infrastructure Loans). Eligible projects will be across multiple business sectors.
About Investment Territory
Investment Territory is the NT Government's strategic investment organisation. It is designed to empower potential investors, providing them with tailored information that guides astute decisions for success. Through a personalised approach, Investment Territory offers:
Thorough sector analyses and project-specific details
Access to grants, programs and comprehensive economic data
Streamlined connections to government contacts, international representatives, and local industry networks
Full support for investment-related visits, ensuring a seamless exploration process.
Investment Territory is dedicated to diversification and the optimisation of prime opportunities, with private sector investment exceeding $42 billion. From renewable energy and critical minerals to defence projects, Investment Territory is a partner for growth and prosperity.
Project overview
The Territory Infrastructure Loans program was established through Investment Territory's Local Jobs Fund.
The program has a total budget of $66.7 million and supports the development and expansion of infrastructure, employment, and the Territory economy.
The loans provided through this program will also focus on improving outcomes for Aboriginal Territorians.
The Local Jobs Fund is a dynamic co-investment initiative, with $189 million allocated to fostering growth and opportunity within the Northern Territory. 
Loan details
The Territory Infrastructure Loans program offers loans to businesses looking to accelerate the delivery of smaller infrastructure-led projects across the Northern Territory.
The loan amount may be up to $10 million, subject to meeting specific conditions. There is no minimum amount. Individual loans may have a duration of up to 10 years.
Eligibility criteria
To be eligible for the Territory Infrastructure Loans program, businesses must meet the following criteria:
Have an infrastructure-led project located in the Northern Territory
Demonstrate high growth potential and job creation opportunities
Possess sound governance, management, and operating systems
Be registered for corporate and tax purposes in Australia.
Please note that eligibility criteria are subject to change, so it is important to stay updated on any revisions or modifications to the program's requirements. Find out more or apply.
How we helped
NAIF's support of the Northern Territory Government's Territory Infrastructure Loans program will support the development and expansion of enabling infrastructure, employment and economic growth, as well as improve outcomes for Aboriginal Territorians. 
Small loans can bridge the gap and provide essential financial resources to individuals, businesses, and communities that might otherwise struggle to secure financing.
Public impact
The investment from NAIF will help eligible businesses boost local employment and accelerate infrastructure and business growth.
The partnership between NAIF and the NT Local Jobs Fund will broaden the reach of NAIF and make financing more accessible.
Businesses that may wish to take advantage of the scheme come from growing Northern Territory sectors such as agribusiness, tourism, resources and manufacturing.
The project is NAIF's first on-lending project.
The $66.7 million program ($50 million from NAIF, $16.6 million from the NT Government) is predicted to support approximately $110.1 million in Gross Territory Product and 532 full-time equivalent jobs in the Northern Territory.
Indigenous Engagement
Indigenous Engagement Strategy Commitments
The Northern Territory Local Jobs Fund (LJF) is working to establish an Aboriginal business advisory group. The group will be responsible for supporting LJF-NAIF borrowers and providing advice on how to collaborate with NT Aboriginal businesses, and create more jobs Aboriginal Territorians. It will also develop and implement strategies that will promote economic independence for local businesses. 
The LJF's Investment Committee is also regularly engaging with an Aboriginal business adviser to provide and receive the best outcomes for local Aboriginal businesses. 
The LJF is committed to delivering Cultural Capability Training to all LJF staff
Indigenous Engagement Strategy Outcomes
The Territory Infrastructure Loans program launched in May 2023. Cross Cultural Consultants International Pty Ltd, an Aboriginal owned NT business, were engaged to provide cultural awareness training to all the Local Jobs Fund (LJF) staff and borrowers.   
A Memorandum of Understanding was signed with the Northern Territory Indigenous Business Network (NTIBN) to collaborate on raising awareness about the economic support available to local Aboriginal businesses.