Northern Territory Government
Darwin Shiplift Project
Construction of an open access multi-user ship lift facility and associated marine industry infrastructure.
Investment Decision
November 2019
Location
Darwin, Northern Territory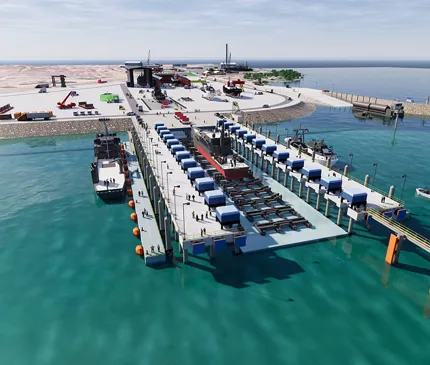 LOAN DETAILS
NAIF Loan Amount up to
$300m
Total Project Value
$515m
Length of Loan
28 years
PUBLIC BENEFIT
$924m
Forecast Jobs
287
Project Status
Contractual Close
NAIF's $300 million loan to the Northern Territory Government will enable the construction of a new ship lift and associated marine infrastructure in Darwin Harbour.
This project will consolidate Darwin's position as a hub for marine maintenance and servicing in northern Australia. Contractual close on the deal was announced in November 2020.
Project overview
A loan of $300 million from NAIF will go to the Northern Territory Treasury Corporation towards the overall $515 million project cost. The Northern Territory Government will contribute the remaining $215 million.
The ship lift will be situated on Northern Territory Government land in the East Arm precinct of Darwin Harbour and will be operated by the Paspaley Group. A statutory open-access and pricing arrangement will ensure common-user access to the facility for all other vessel owners and operators in the region.
The ship lift will be capable of servicing large vessels from industries including coastal shipping, offshore petroleum, fishing, pearling, defence and Australian Border Force. It will be used to lift and lower vessels from the water so they can be serviced, repaired or stored, including for safety during cyclones.
The ship lift will be 103 m in length and be able to lift vessels weighing up to 5,500 tonnes.  The facility will include wet berths and 16 hectares of hard stand area for repair and maintenance works. These additional facilities will reinforce the Territory's marine maintenance and servicing activities and create supply and side support benefits for local businesses and create opportunities for new businesses.
How we helped
Darwin Harbour is the only functional deep-water harbour in northern Australia. Without this facility, large vessels would need to travel 10 days or more to be serviced elsewhere.
NAIF's value is to provide longer-term funding and flexibility around the drawdown and repayment structure of the project.
Public impact
NAIF's investment is forecast to deliver economic diversification, job creation, new roles for highly skilled workers and new opportunities for NT businesses.
The ship lift will establish Darwin as a key maritime maintenance centre in northern Australia and servicing South East Asia, and will capitalise on the Territory's strategic position in the Asia Pacific region.
During the peak of construction, over 250 workers will be employed, with an average of 100 workers on-site throughout the construction. Once completed, the ship lift facility will support hundreds of local jobs within the maritime support sector, contributing significantly to the region's economic growth and stability.
Indigenous Engagement
Traditional owners of this land
The Larrakia people are the Traditional Owners of the Garramilla (Darwin) region where the Darwin Ship Lift Project is located. The Larrakia people traditionally inhabited lands that extend from the Cox Peninsula in the west, towards Gunn Point in the north, Adelaide River in the east, and towards Manton Dam in the south. Their lands extend over Darwin and Palmerston, which are the two largest cities in the Northern Territory.
Indigenous Engagement Strategy Commitments
The Darwin Ship Lift Project has committed to several key initiatives relating to its IES. Firstly, they have engaged with the Aboriginal Areas Protection Authority (AAPA) and gained the appropriate clearances and approvals ensuring no sensitive areas will be affected by the project.
The construction contractor has committed to engaging with local Larrakia organisations to explore participation opportunities. The contractor has also committed to providing opportunities to local and Indigenous and operated businesses in Darwin. The contractor will actively consider direct employment opportunities within its project team to maximise local employment and opportunities with a particular focus on Aboriginal employment and training opportunities.
The project has followed the Territory's Procurement Framework, emphasising open and competitive tenders via the Industry Capability Network (NT) (ICN NT) Gateway online portal. The procurement process included a minimum 30% Local Content assessment criteria weighting and considered during tender assessments: Aboriginal employment, local service providers, supply chains, training opportunities and proposals that maximise Aboriginal and local participation. During the open procurement phases, the Territory collaborated with the ICN NT facilitating member registrations for procurement opportunities, like 'meet the buyer' sessions, subcontractor registration and developing a preferred Aboriginal supplier list. The contractor has also hosted via ICN NT a series of local industry briefings to identify local opportunities and networks with prospective supply chain participants.
The contractor's Industry Development Plan (IPP) encompasses a series of opportunities for local business, Aboriginal participation and training, local and NT content as a first priority, then Australian business content as a broader priority before engaging with overseas supply chains. It is noted however some elements are quite specialist in nature and/or volumes/program challenges may exceed local and Australian capacity/capability requirements, therefore some supplies will be sourced from overseas vendors.
Engagement and general agreement with the NAIF and AIP Authority to ensure these local commitments are maximised has been a cornerstone for the contractor in developing its IPP.