Our Organisation
Careers
To drive transformational growth in northern Australia, it is crucial we have staff based in the region. Our team has the perspectives and insights needed to help drive sustainable change and know first-hand the unique challenges faced by residents and businesses in the north.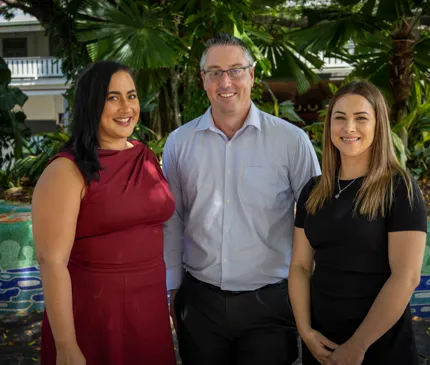 NAIF's head office is located in Cairns, and with offices in Townsville, Darwin, Brisbane, Perth and Sydney, we are perfectly placed to build and maintain strong relationships that make a real difference.
NAIF is a values-based organisation with a strong culture drawn from the talent, experience and dedication of our team members. Everything we do aligns with our purpose of investing in the growth of northern Australia. 
Our committed team has extensive experience as lenders and financial advisors in the commercial market, and expertise advising both public and private-sector counterparts. We have legal, stakeholder relations and communications, risk and governance, Indigenous engagement, and corporate administration experts who work to deliver on our Investment Mandate.
NAIF is committed to providing a safe, inclusive culture where people have the support to succeed; where we embrace diversity of thought; and where individual strengths are celebrated. This enables us to grow and develop, both individually and as a team, as we work towards our strategic vision.
Our culture
At NAIF, we are driven by our purpose, values, and commitment to inclusion. We foster a collaborative and supportive work environment, valuing the growth and development of our team members. We offer opportunities for professional development and prioritise providing a safe and inclusive workplace. 
If you are passionate about driving positive change and contributing to the sustainable growth of northern Australia, we invite you to join our team.
Our values
At NAIF, we believe in fostering a collaborative, ethical, and impactful environment that inspires positive change in northern Australia. Our values define who we are and how we operate, ensuring that we are committed to making a real difference in the region.
We understand that success is amplified when we work as a cohesive team, supporting and empowering one another. Whether it's assisting our co-workers to excel, seamlessly collaborating across different teams, or leveraging expertise from various parts of our organisation, we are united in our efforts to deliver the best solutions to any challenge.

We conduct ourselves with honesty, trust, professionalism, and reliability in all that we do. We honour our commitments, uphold ethical standards, and choose the right path, even when faced with challenges. We promote an atmosphere where acting with integrity is not only expected, but actively encouraged.

We are driven by the belief that our work can truly make a difference. We take pride in our contributions and recognise the profound connection between our efforts and the benefits that we deliver. Guided by  NAIF's goals and values, we go above and beyond to ensure that our work not only aligns with our purpose, but also propels the region forward.

We take ownership of tasks and encourage calculated risks that foster innovation. We strive to ensure our solutions are impactful by making informed decisions, even in uncertain situations, and by always being open to fresh ideas that drive development.
At NAIF, our values are more than just words – they are the compass that guides us as we create a stronger, more vibrant northern Australia. If you share these values and are passionate about meaningful impact, we invite you to join us. Together, we can shape a brighter future for the region and leave a lasting legacy.
Find out more
Explore more about what makes NAIF a unique financier and access essential resources and information about NAIF's operations.