Net Zero Transition
Read about our transition to net zero, focusing on renewable energy, energy efficiency, critical minerals, climate disclosure, and stakeholder engagement.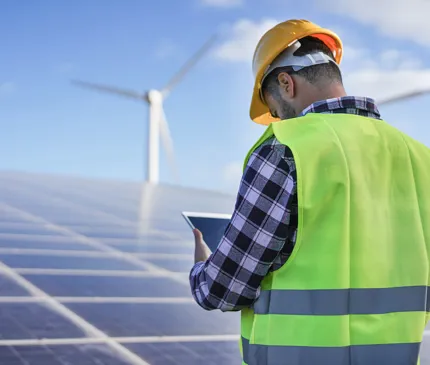 In October 2021, the Australian Government announced its intention to reach net zero emissions by 2050, aligning itself with global climate goals. 
This commitment was backed by the introduction of the Climate Change Act (2022), which serves as the legislative framework for addressing the negative impacts of anthropogenic climate change.  
The Australian Government's commitment acknowledged the very different physical and transition risks and opportunities faced by regions across Australia. It also emphasised the importance of regional solutions and job creation as part of the low-carbon energy transition. 
Net Zero Transition
In response to the introduction of the Climate Change Act (2022), our organisation has commenced preparation of an innovative strategy to transition to net zero. This transition demonstrates our contribution to the reduction of Australia's greenhouse gas emissions, while promoting the sustainable and resilient economic development of northern Australia.  
Key aspects include: 
Renewable Energy 
We seek to support northern Australia's transition into a renewable energy superpower. Leveraging the region's vast solar and water resources, NAIF supports investment in large-scale renewable energy and energy storage projects. These initiatives not only reduce carbon emissions, but also drive economic growth and job creation. 

Energy Efficiency
By strategically promoting energy efficiency solutions in industrial and social infrastructure projects (including education, healthcare and housing), we seek to help proponents reduce both their carbon footprint and their operational costs. In doing so, our financial assistance fosters greater resilience and improves the overall quality of life for northern communities. 

Critical Minerals
Critical minerals are crucial to the transition to a low-carbon economy. They are essential components in batteries, electric vehicles, hydrogen electrolysers, solar panels, and a range of defence equipment. Rich in lithium, bauxite, cobalt, copper, manganese, nickel, tungsten, vanadium and zinc, northern Australia is well positioned to meet the growing demand for responsibly extracted critical minerals. 
As part of the Critical Minerals Strategy 2023-2030, the Australian Government has allocated $500 million to NAIF to support proponents and end-users by investing in the reliable supply of critical minerals through project development and encouraging upstream investment. 
Mandatory Reporting Readiness
In anticipation of the introduction of standardised, internationally aligned climate disclosure requirements in Australia, we work with proponents to support climate-risk disclosures regarding governance, strategy, risk management, targets, and metrics – including greenhouse gas emissions.
Stakeholder Engagement
We collaborate closely with communities, government bodies, co-financiers, and industry to advance best-practice environmental, social and governance standards in project preparation, due diligence, and delivery, in accordance with relevant Australian legislation. 
The transition to net zero is not only a policy imperative, but a generational opportunity for economic development across northern Australia. NAIF is further exploring ways to support emerging cleantech and hydrogen opportunities. We will continue to advocate for environmental stewardship while fostering economic growth, job creation and improved First Nations outcomes in northern Australia.
Find out more
Whether you're interested in understanding our investment process, exploring the Investment Act and Mandate that guide our decisions, utilising our Indigenous Engagement Strategy Toolkit, or seeking answers to frequently asked questions, we've got you covered. Click on our quick links in this section to discover more about our mission and impact.