...

Indian Ocean Territories
HOW & WHERE WE INVEST
Indian Ocean Territories
Explore the unique economies of Christmas Island and Cocos Islands, driven by government services, tourism, and a transitioning mining sector. Learn how NAIF contributes to their sustainability.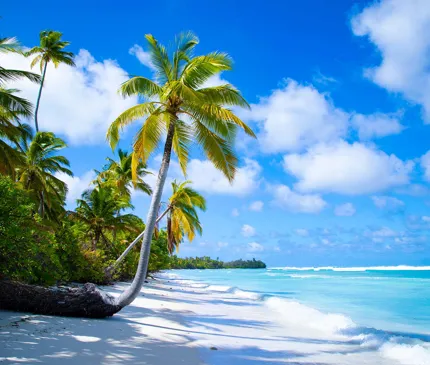 Christmas Island has historically been known for its phosphate deposits. Phosphate mining was a significant industry on the island for many decades. However, by 2030, mining will cease due to the depletion of economically viable phosphate reserves. As a result, the island is now transitioning its economy away from mining.
As external territories of Australia, both Christmas Island and the Cocos (Keeling) Islands receive various government services and funding. These include healthcare, education, infrastructure development, and public administration, which play a crucial role in the local economy.
Tourism is a vital economic sector for both territories. Christmas Island attracts tourists interested in ecotourism and the island's unique wildlife. Popular activities include scuba diving and snorkelling, as well as witnessing the spectacular annual red crab migration. 
The Cocos (Keeling) Islands are known for their beautiful beaches, coral reefs and water-based activities such as snorkelling and kiteboarding. Tourism is a significant contributor to the local economy, with visitors primarily coming from Australia and Southeast Asia.
The Cocos (Keeling) Islands have a small-scale fishing industry and some agriculture, primarily coconut and subsistence farming.
The remote location of these territories poses logistical challenges and can lead to higher costs for imported goods and services. Environmental conservation is crucial, given the unique biodiversity and ecosystems found in these territories.
Their economies are sensitive to fluctuations in tourism, which are easily influenced by factors such as global economic conditions and travel restrictions.
Both territories have been exploring opportunities for economic diversification and sustainability, including renewable energy projects and efforts to boost tourism.
Christmas Island and the Cocos (Keeling) Islands are strategically located in the Indian Ocean and are of interest in terms of regional geopolitics and international relations.
Find out more
Whether you're interested in understanding our investment process, exploring the Investment Act and Mandate that guide our decisions, utilising our Indigenous Engagement Strategy Toolkit, or seeking answers to frequently asked questions, we've got you covered. Click on our quick links in this section to discover more about our mission and impact.