FAQs
Answers to commonly asked questions about NAIF, what we do and how we operate.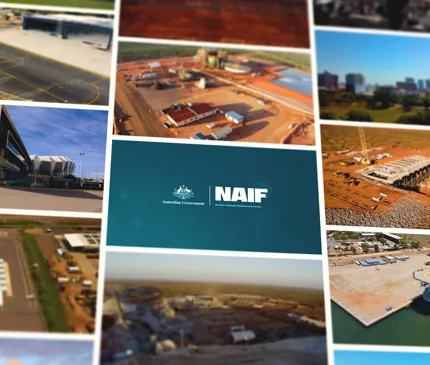 What does NAIF do?
NAIF provides financial assistance to projects and businesses that help northern Australian communities and industries grow, prosper and develop sustainably.
Our goal is to accelerate infrastructure development and drive economic growth by funding and encouraging private-sector investments in all sectors, including agriculture and water, energy, financing partnerships, resources, social infrastructure, transport and logistics. 
Backed by the Australian Government, NAIF invests in, or lends money to, infrastructure projects and businesses that: 
Generates public benefit;
Stimulate longer-term growth in the economy and population of northern Australia;
Encourage private-sector participation in infrastructure financing; and
Promote sustainable Indigenous participation, procurement and employment.
Exactly where is northern Australia?
NAIF can fund projects in parts of Queensland and Western Australia above the Tropic of Capricorn, as well as the whole of the Northern Territory. The area we cover has also been expanded to include the Australian Indian Ocean Territories of Christmas Island and Cocos (Keeling) Islands.
More details, including a map.
What projects/sectors can you finance?
We can finance infrastructure projects and businesses – large, medium and small – across all sectors, including mining and resources, agriculture and aquaculture, transport (including airports, ports, rail and logistics), energy, water, education, tourism, social infrastructure, healthcare, telecommunications and manufacturing.
Is my project eligible for support from NAIF?
If you wish your project to be considered for investment by NAIF, there are criteria to be met and other information to be considered before a project can qualify for support. 
Your project must:
Involve the development or material enhancement of infrastructure.
Be of public benefit.
Be located in, or have significant benefit for, northern Australia.
Demonstrate an ability to repay or refinance the debt (or, for equity, provide a return on investment).
Have an Indigenous Engagement Strategy (excluding Indian Ocean Territories).
What funds are available to NAIF to finance projects?
NAIF was provided with an initial $5 billion of capital by the Australian Government. This was increased to $7 billion in June 2023 through the Northern Australia Infrastructure Facility Amendment (Miscellaneous Measures) Bill 2023. 
What types of finance are available from NAIF?
We work with project proponents to offer a range of flexible financing options on commercial terms.
Provided that your project is eligible for NAIF support, we can provide:
Bespoke and flexible loan facilities.
Loans for smaller-scale projects, including through financing partnerships.
Equity finance, subject to a cap of $50 million per investment and a minimum investment size of $5 million; NAIF can invest in non-controlling equity stakes.
We consider the unique circumstances of the region, with climate, distance from major markets and sparse populations being common themes. Our commercially focused investment team works closely with proponents to structure finance in the most appropriate way.
As a government entity, NAIF is responsible for the careful stewardship of public funds. Central to this is ensuring that proponents demonstrate an ability to repay loans or provide a return on equity investments.
Please note that NAIF cannot provide funding for feasibility studies.
Is there a minimum investment size for debt?
Projects are considered on a case-by-case basis. However, because of the high level of work required to carry out due diligence, assess public benefit, complete all documentation, and develop Indigenous Engagement Strategies, we primarily focus on providing loans above $10 million. This ensures the potential benefits of NAIF financing outweigh the costs involved in the assessment and approval process.
Can I get a grant from NAIF?
NAIF does not provide grants or fund business cases. Our financing is in the form of loans or equity.
I am a small business. How can NAIF support my project? Do I qualify?
We are looking to establish a range of partnerships across northern Australia with regional financiers who will provide NAIF funding directly to smaller projects.
Small-scale proponents will benefit from more localised decision-making on loan approvals and potentially simplified public benefit and Indigenous engagement requirements.
The first of these partnerships is with the Northern Territory Government's Local Jobs Fund, which provides smaller loans such as NT Infrastructure Loans.  
As partnerships are formed, additional information and links to financing partner programs will be published on the NAIF website.
If you can show you meet the criteria for these loans please proceed with the application online.
I am interested in a NAIF loan - what do I need to do?
If you believe your project meets the eligibility criteria in the first instance, please email details of your project to us at naif@naif.gov.au. A member of our team will be in touch with you as soon as possible.
Who makes NAIF's Investment Decisions?
The NAIF Board is responsible for making Investment Decisions.
We apply commercial rigour to all Investment Decisions, which are made independently of government.
If the NAIF Board makes an Investment Decision to offer finance, the responsible federal minister has a consideration period during which the minister may veto the project (on specific grounds specified in the NAIF Act). 
For projects that will be financed via a state or territory, the relevant jurisdiction must confirm its support. 
How long does the NAIF assessment and approval process take?
We review and assess information as soon as we receive it from the proponent.
In general terms, the NAIF assessment process is broadly aligned with the process a proponent would work through with a commercial bank or other private-sector financier.
If my project progresses to due diligence does that mean NAIF funding is guaranteed?
No. The NAIF Board is responsible for making Investment Decisions after the due diligence processes have been completed.
Following a successful Investment Decision, the responsible federal minister must confirm their support and several other conditions will need to be met. The relevant state or territory may also be required to approve NAIF's offer of financing to a project.
What happens after an Investment Decision?
Following an Investment Decision, the Minister for Northern Australia must confirm their support before a project can receive NAIF funding.
The relevant state or territory may also be required to approve NAIF's offer of financing to a project. Following this, documentation of the funding can commence. As with any finance, any conditions of the loan must be met before funds are made available.
Who can I speak to about my project?
If you believe your project meets the eligibility criteria, please email details of your project to naif@naif.gov.au. A member of the NAIF team will contact you as soon as possible.
Are there government regulations that must be met?
In addition to satisfying the NAIF mandatory criteria and other legislative requirements, projects must be compliant with all relevant federal, state and territory laws before NAIF funding can go ahead. Projects must also comply with the Australian Industry Participation Plan (this applies to NAIF loans of $20 million or more) and with the national Work Health and Safety Accreditation Scheme where applicable.
What information will NAIF publicise about my project?
NAIF works collaboratively with project proponents throughout the assessment and approval process. We will discuss with you how we intend to publicise your project after an Investment Decision is made. Generally, we will work with you to publish a case study of your project and a related news story on the NAIF website.
Please note that within 15 business days of the NAIF Board making an Investment Decision we are obliged by our Investment Mandate to publish information about the decision on our website, subject to commercial confidentiality.