Strandline Resources Limited
Coburn Heavy Mineral Sands Project
Backed by NAIF's $150 million investment, Strandline Resources' Coburn Heavy Mineral Sands Project will help revolutionise the mineral sands industry, create jobs and drive economic growth in Western Australia.
Investment Decision
June 2020
Location
Gascoyne region of WA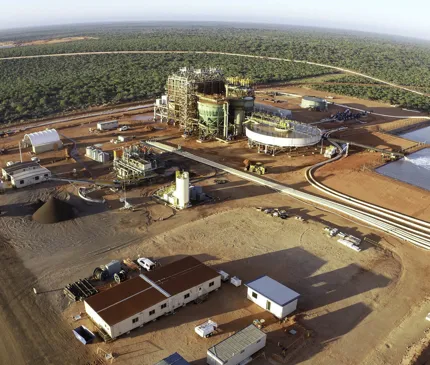 LOAN DETAILS
NAIF Loan Amount up to
$150m
Total Project Value
$320m
Length of Loan
15.5 years
PUBLIC BENEFIT
$922m
Forecast Jobs
505
Project Status
Operational
The Coburn Project is expected to be one of the world's largest and most capital-efficient mineral sands projects, with a strong zircon-titanium product suite.
About Strandline
Strandline Resources is an emerging producer of heavy mineral sands with a portfolio of development assets located in Western Australia and within the world's major zircon and titanium-producing corridor in Tanzania.
Project overview
The Coburn Heavy Mineral Sands Project is one of the largest mineral sands (zircon and titanium-rich deposit) projects in the world.
The project is located in the well-established mining jurisdiction of Western Australia, close to key infrastructure, approximately 240 km north of Geraldton in the Gascoyne region. The project comprises mining operations, beneficiation, mineral separation processing, and associated infrastructure to produce 23.4 Mtpa of mineral sand products. The initial life of the mine is 22.5 years. 
NAIF's loan will be used for key infrastructure including a processing plant and equipment. 
Products from the development will be used globally in ceramic tile, refractory, paint, titanium metal and welding rod applications. First production of heavy mineral concentrate (HMC) was completed in the December 2022 Quarter and the inaugural HMC shipment of concentrate was completed in the same quarter.
How we helped
NAIF provided up to $150 million in finance towards the Coburn Heavy Mineral Sands Project. According to Strandline, NAIF's endorsement of the project helped push it toward production and helped ensure the project could secure other necessary financing.
Public impact
The project is expected to generate up to $922 million in economic impact to the region over 25 years and generate up to 315 jobs during construction and up to 190 jobs during operations. Strandline resources expects to recruit the majority of its workforce from the surrounding regional area by facilitating a drive-in drive-out workforce. In addition, Strandline will offer training opportunities and engage local consultants and contractors, all of which will benefit the Gascoyne and Mid West regions. 
Indigenous Engagement
Traditional owners of this land
The Nanda and Malgana people
The Nanda and Malgana people are the Traditional Owners of the lands on which the Coburn Mineral Sands Project is located. 
The Nanda people's lands cover the southern part of the Coburn Mineral Sands project and extend south towards the Kalbarri National Park. The town of Kalbarri is also located within the lands of the Nanda people. 
The Malgana people's lands cover the northern part of the Coburn Mineral Sands project and extend north towards the locality of Wooramel, and north-west towards Cape Inscription. The Malgana people are the traditional custodians of the Shark Bay Marine Park, and nearby towns of Denham and Monkey Mia.
Indigenous Engagement Strategy Commitments
Strandline's IES includes commitments in key areas such as participation, employment, procurement and community development. 
Key participation commitments include an aspirational Indigenous employment target of 3 – 5% during construction, and 4 – 9% during the operational phase of the project and providing first priority to Nanda Aboriginal Corporation of any contracting opportunities as per the Nanda Mining Agreement. 
Community development commitments include establishing a Community Consultation Group comprised of Nanda and Malgana representative to review project opportunities and Indigenous engagement commitments, as well as the incorporation of Indigenous knowledges around the project area, such as the installation of signage acknowledging traditional ownership and heritage.
Indigenous Engagement Strategy Outcomes
As of July 2023, some of the outcomes delivered from Strandline's IES include exceeding Indigenous employment targets for the construction phase of the project (14.6% Indigenous employment reported on site as of May 2022). Multiple tenders have also been awarded to Nanda owned and operated businesses. 
Strandline has appointed an Indigenous Liaison Representative on the project to ensure regular engagement with Nanda and Malgana representatives and provided sponsorship for community programs such as the MADALAH Indigenous Youth Leadership Project. 
During 2023, Strandline worked with their long-term contractors to identify traineeship and apprenticeship opportunities to ensure employment targets could be achieved by providing more flexible rosters, long term mentoring outcomes and job stability.