BCI Minerals
Mardie Salt Project
Explore how NAIF's investment of $490 million is powering the BCI Minerals Mardie Salt and Potash Project in the Pilbara region.
Investment Decision
December 2020
Location
Pilbara region, WA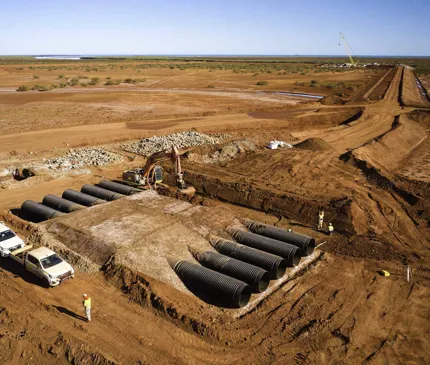 LOAN DETAILS
NAIF Loan Amount up to
$490m
Total Project Value
$1.44bn
Length of Loan
15 years
PUBLIC BENEFIT
PUBLIC BENEFIT over 30 years
$3.6bn+
Forecast Jobs
1,173
Project Status
Investment Decision
The Mardie Project is a major development in the Pilbara region of Western Australia that aims to produce and export high-quality salt from seawater using solar and wind energy.
The project has received a $450 million loan from the Northern Australia Infrastructure Facility (NAIF) and has committed to creating local and Indigenous employment and business opportunities. The project will also have significant economic and environmental benefits for the northern Australian region over its 60+ year operating life.
About BCI Minerals
BCI Minerals Limited is an Australian-based mineral resources company that is developing an industrial minerals business, with salt and potash as its initial focus.
BCI is rapidly progressing its 100% owned Mardie Salt Project, which is located on the Pilbara coast in the centre of Western Australia's key salt production region.
Project overview
The Mardie Salt Project involves construction of large ponds and crystallisers over a 100 km2 area, two process plants, and a new port facility for export of salt and other products. 
Mardie aims to export 5.3 million tonnes per annum of high-purity salt via solar evaporation of seawater and a production process driven mainly by solar and wind energy.
Mardie will be the first major salt operation developed in Australia in two decades.
The proposed facilities will provide the opportunity to expand Australia's chemical and agriculture industries over a 60-plus year operating life.
A new transhipment port within the Pilbara Ports Authority's Cape Preston West Port area will enable exports from the Mardie Project, and will be available to other developments in the region.
Securing NAIF's commitment is a key step in Mardie's funding strategy because it accounts for a significant proportion of the total funding requirement and has important features that will support BCI in securing the remaining debt and equity funding.
How we helped
NAIF increased its funding to $490 million to help support the expansion of BCI Minerals' Mardie Salt Project in Western Australia. It is an increase of $40 million on the original loan approved in December 2020.
Public impact
An independent economic analysis has forecast benefits of more than $2 billion to the northern Australia region over Mardie's construction and operating life.
Mardie will have a peak construction workforce of at least 450 people and a permanent operating workforce of 200 people. It will also create additional indirect employment in the Pilbara region. BCI will also seek to maximise local and Indigenous employment and contracting opportunities.
Indigenous Engagement
Traditional owners of this land
The Mardudhunera and Yaburara people
Mardudhunera and Yaburara are the Traditional Owner of the land where BCA's Mardie Salt Project is located. They also acknowledge the Robe River Kuruma people as they have strong kinship to the area.
Indigenous Engagement Strategy Commitments
BCI Minerals is working with the Wirrawandi Aboriginal Corporation and Robe River Kuruma Aboriginal Corporation to enable job and business opportunities targeting the local Traditional Owners and the wider Aboriginal community.
BCI Minerals will seek to achieve at least 5% Indigenous employment in the first year of construction, 7% Indigenous employment in the second year of construction, and 10% Indigenous employment in the third year of construction, and seeking to maintain a 10% level throughout operations.
An Aboriginal Procurement and Contracting Policy will be developed with the Wirrawandi Aboriginal Corporation and Robe River Kuruma Aboriginal Corporation in conjunction with designing smaller work packages to increase prospects for tendering by local Indigenous businesses, inclusion of non-price criteria in tendering processes and other measures.
BCI Minerals has been working with the local Traditional Owners for the past 8 years and continues to support and celebrate their culture. BCI is developing cultural heritage management plans to ensure ongoing protection of cultural sites and values; co-developing cultural protocols with the Traditional Owners; establishing an Indigenous staff network and hosting/participating in local Aboriginal events.