Queensland Airports Limited
Redevelopment of Townsville Airport
Explore the transformation of Townsville Airport in Queensland. NAIF's $50 million investment fuels redevelopment for improved access and regional growth.
Investment Decision
January 2019
Sector
Transport & Logistics
Location
Townsville, Queensland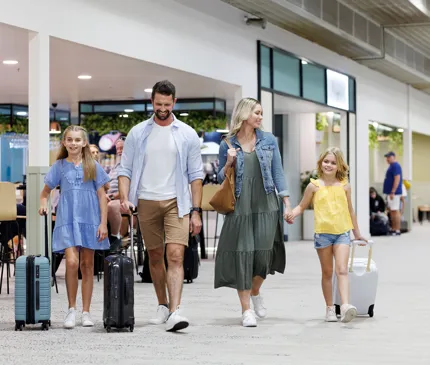 LOAN DETAILS
NAIF Loan Amount up to
$50m
Total Project Value
$80m
Length of Loan
15 years
PUBLIC BENEFIT
$81.7m
Forecast Jobs
257
Project Status
Financial Close
Townsville Airport, a member of the Queensland Airports Limited group (QAL), is set to undergo a timely redevelopment thanks to a loan from NAIF. The modernisation project will increase the airport's accessibility and efficiency, ultimately bolstering regional economic growth and job creation in North Queensland.
About Queensland Airports Limited Group
Townsville Airport is a major economic enabler for North Queensland, supporting more than 3,000 jobs, contributing $420 million to the economy, and supporting many sectors of the local economy including resources, tourism, agriculture and education.
Project overview
The Townsville Airport terminal redevelopment will underpin regional growth by addressing current capacity issues during peak times and provide for the airport's expected growth in passenger numbers.
Planned upgrades include:
Terminal refurbishment, including increased lounge capacity.
A new terminal roof.
New core infrastructure (including water, fire and waste facilities).
Additional works.
How we helped
QAL worked with NAIF to enable the acceleration of the latter stages of the redevelopment of Townsville Airport. NAIF's loan helped bring forward the redevelopment of the terminal and remaining project works.
Public impact
Ensuring Townsville Airport's sustainability is critical for the local economy and growth of both Townsville and North Queensland.
Independent analysis forecasts infrastructure funded by the NAIF loan will generate approximately $82 million in economic benefits for the region over the next 30 years through additional regional visitor spend, traveller time savings and other benefits.
The project is expected to create 207 additional full-time equivalent jobs during construction and 50 full-time equivalent operational jobs after the project is finished.
Indigenous Engagement
Traditional owners of this land
The Wulgurukaba people are the Traditional Owners of the land on which Townsville Airport is located. The Wulgurukaba people's lands cover most of the urban core of the City of Townsville, north of the Ross River, and extend north towards the locality of Rollingstone.  
The Wulgurukaba people also inhabited nearby Magnetic Island and used canoes (Wulgurukaba means canoe people) to traverse the waters of Cleveland Bay. Wulgurukaba referred to their country around the City of Townsville as Gurambilbarra, while they referred to Magnetic Island as Yunbenun. 
Indigenous Engagement Strategy Commitments
Townsville Airports Indigenous Engagement Strategy (IES) encompasses commitments in essential areas such as participation, employment, procurement, and community development. 
Regarding participation, employment, and procurement, Townsville Airport has set a 3% target for both Indigenous employment and Indigenous procurement during the construction phase of the project. This commitment underscores their dedication to involving Indigenous individuals and businesses in their initiatives. 
In terms of community development, Townsville Airport is taking significant steps. They have established an Indigenous Working Group, which will play a vital role in facilitating Indigenous engagement and fostering relationships with the region's Traditional Owner groups. Additionally, Townsville Airport is committed to launching an Indigenous employment program, ensuring employment opportunities for Indigenous individuals. They have also initiated an Indigenous scholarship program to support educational pursuits within the Indigenous community. Collaborating with Traditional Owners, they are working on the development of a Welcome to Country display within the airport terminal, showcasing their commitment to Indigenous culture and heritage. 
Indigenous Engagement Strategy
Outcomes
By July 2023, Townsville Airports Indigenous Engagement Strategy (IES) has achieved significant outcomes. Notably, they have surpassed their employment targets during the construction phase, with Indigenous employment reaching 31.5% on site in June 2023. Additionally, Townsville Airport has actively engaged local Townsville-based Indigenous businesses, awarding contracts for various project-related works. The Airport Expansion project has now progressed to the airside phase, focusing primarily on upgrading the departures area and installing a new escalator. 
In addition to these achievements in Indigenous employment and procurement, the Townsville Airport Indigenous Scholarship program has been launched in collaboration with James Cook University. This initiative supports two Indigenous students pursuing studies in fields such as Business, Commerce, Engineering, Environmental Sciences, and Information Technology. Furthermore, Townsville Airport demonstrates its commitment to Indigenous initiatives through the Queensland Airports Community Benefit Fund which dedicates grant funding to Indigenous causes. These efforts exemplify Townsville Airport dedication to fostering Indigenous education and community support.