NAIF loan to Charles Darwin University expansion receives full approval
17 Jul 2020
Media Release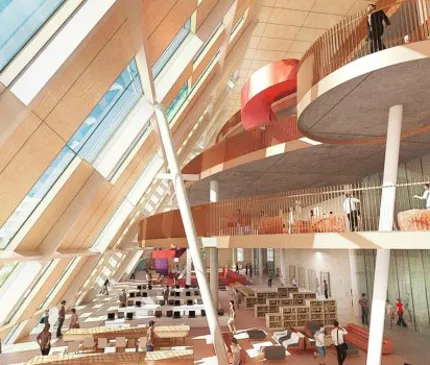 Charles Darwin University's (CDU) expansion plans have moved forward, with the Northern Australia Infrastructure Facility (NAIF) fully approving a loan up to $151.5 million to support the university's growth.
NAIF's Investment Decision, which has been approved by the Minister for Resources, Water and Northern Australia, Keith Pitt, will enable the Darwin City Deal's Education and Community Precinct to progress, comprising:
a new CDU city campus, and
a central city library (co-locating parts of existing libraries at CDU and NTG)
NAIF's loan is in addition to $97 million already committed by the Commonwealth Government through the Darwin City Deal initiative.
Around 730 jobs will be created during the construction phase including on-site and off-site works.
A public benefit assessment forecast that this project will produce net benefits to the Darwin economy of $599m over a 30-year period through increased urbanisation and economic activity. It is also forecast to support an additional 54 jobs a year in the Darwin economy.
NAIF CEO Chris Wade said: "NAIF was an early supporter of CDU's exciting plans, granting a conditional approval last November, and we are delighted the loan has now received full approval.
"The Northern Territory Government Economic Development Framework forecasts there will be 10,000 international students studying in the Territory by 2025 and this new precinct will help the university cater to a significant number of those students. The increase in workers and students will generate more business activity and bolster the local economy."
Construction of the new Precinct will start this year and is expected to be completed in time for the 2024 academic year.
NAIF first provided conditional approval of the loan in November 2019.
NAIF's support for CDU comes at a critical time for the Northern Territory economy and will help support the growth in tertiary education in the region for years to come.
In the Northern Territory, NAIF is providing nearly $800m in loans through Investment Decisions and conditional approvals to infrastructure projects, supporting over 1,500 jobs. Other Northern Territory projects supported by NAIF include:
Supporting economic growth through the funding of a new Ship Lift in Darwin.
Expansion of facilities at Humpty Doo Barramundi, helping grow the Northern Territory aquaculture sector.
Upgrades at airports to help Northern Territory Airports increase capacity and support export industries.
Improved infrastructure at Connellan Airport, operated by Voyages supporting tourism for the Yulara region.