NAIF reaches contractual close on transformational Queensland pumped storage hydro project at Kidston
15 Apr 2021
Media Release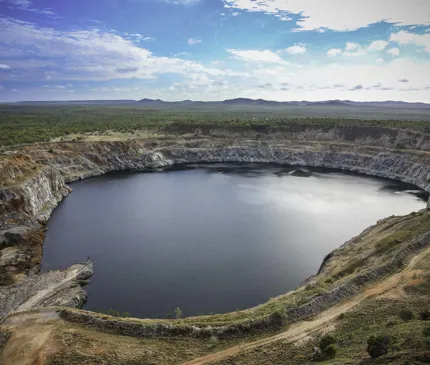 The Northern Australia Infrastructure Facility (NAIF) has reached contractual close on $610 million in investment, its largest financing commitment to date.
NAIF's loan to Genex Power's Kidston 250MW Pumped Storage Hydro Project (K2-Hydro) will create more than 500 construction jobs and deliver affordable, reliable electricity for north Queensland.
Genex will be delivering the first pumped storage hydro project in Australia since 1984 and the first to be used solely for energy storage and generation rather than water management.
NAIF's loan reaching contractual close is a key point of economic enablement as it provides project proponents the confidence to complete project preparatory works and start construction, driving employment and economic growth.
NAIF were early supporters of K2-Hydro, – which utilises an abandoned gold mine – and have worked closely with Genex and other participants to bring the project to fruition.
K2-Hydro will provide, a highly efficient form of large-scale energy storage that helps to manage the growth of intermittent forms of renewable energy such as solar and wind. It will also create a long-term dispatchable energy supply for north Queensland, which will be crucial to help businesses and households to find cheaper, reliable sources of electricity.
NAIF CEO Chris Wade said: "NAIF was an early supporter of the transformational Kidston Pumped Storage Hydro Project and we have worked closely with Genex to ensure the project is a success. We are delighted that our $610 million financing in the project has reached contractual close."
"Our early funding commitment was critical in providing other parties the confidence to proceed with finalising the project. Simply put, without NAIF's early support, the Kidston pumped hydro project would not be able to go ahead."
Genex construction is expected to be completed by late 2024.
Mr Wade added: "I congratulate the Genex team for successfully bringing together the parties required to develop this project and we look forward to continuing our partnership as they work towards construction and delivering the significant economic and employment benefits to the region."
Alongside NAIF's investment the Kidston Pumped Storage Hydro Project is also being supported with $47 million funding from the Australian Renewable Energy Agency (ARENA).
NAIF works with project proponents to encourage and ensure that NAIF's financial support will help bring a positive impact to local communities, provide positive Indigenous outcomes, and support the region and northern Australia as a whole.
NAIF's investment is forecast to support around 9,000 jobs and generate around $8.8 billion in economic benefit to the north.
Legislation to extend NAIF until 2026 recently passed the Australian Parliament House of Representatives. The series of reforms included in the legislation will provide NAIF with additional flexibility and financing tools to continue to support the development of northern Australia.