Charles Darwin University
City and Casuarina Campus Project
Discover NAIF's $151.5m loan to Charles Darwin University (CDU) Casuarina Campus Project in Darwin, Northern Territory.
Investment Decision
July 2020
Sector
Social Infrastructure
Location
Darwin, Northern Territory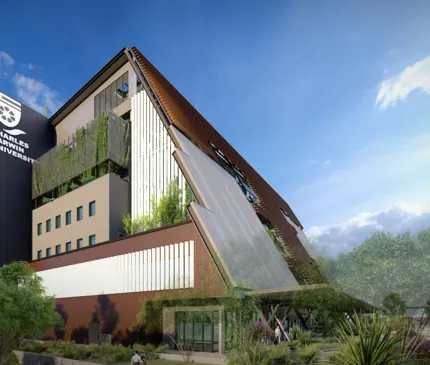 LOAN DETAILS
NAIF Loan Amount up to
$151.5m
Total Project Value
$250m
Length of Loan
27.5 years
PUBLIC BENEFIT
$599.4m
Forecast Jobs
784
Project Status
Financial Close
NAIF's loan will enable the Darwin City Deal initiative's Education and Community Precinct to progress, comprising a new Charles Darwin University (CDU) city campus, and a central city library (co-locating parts of existing libraries at CDU and the Northern Territory Government).
About Charles Darwin University
Charles Darwin University (CDU) is a unique institution deeply rooted in the Northern Territory. 
With campuses in major cities and remote locations, CDU embraces the spirit of inclusivity and resilience. 
The university's commitment to the region is evident in its multi-campus, dual-sector status, and dedication to impactful training, education and research. 
CDU's strategic focus on empowering its people and fostering partnerships ensures it can contribute meaningfully to the social, economic, and environmental sustainability of the Northern Territory.
Project overview
Construction commenced in October 2020.
The project will create 350 on-site jobs and a further 380 jobs across the supply chain through to 2024 when construction is expected to be completed.
Once built, the precinct is expected to deliver state-of-the-art teaching and research facilities, an art gallery and a library.
NAIF's loan is in addition to the $97 million already committed by the Australian Government through the Darwin City Deal initiative.
Construction is expected to be completed in time for the start of the 2024 academic year.
How we helped
The Northern Territory Government Economic Development Framework forecasts there will be 10,000 international students studying in the Territory by 2025 and NAIF's support of this new precinct will help the university cater to a significant number of those students. The increase in workers and students will generate more business activity and bolster the local economy.
Public impact
The precinct will provide modern education facilities and help revitalise the Darwin CBD by bringing students into the city centre. Around 730 jobs will be created during the construction phase, including on-site and off-site works. A public-benefit assessment forecast net benefits to the Darwin economy of $599.4 million over 30 years through increased urbanisation and economic activity. The project is also forecast to support an additional 54 jobs a year.
Indigenous Engagement
Traditional owners of this land
The Larrakia people are the Traditional Owners of Garramilla (Darwin) region where CDU's City Campus is located. The Larrakia people traditionally inhabited lands which extends from the Cox Peninsula in the west, towards Gunn Point in the north, towards Adelaide River in the east, and down towards the Manton Dam in the south. Their lands extend over both the Cities of Darwin and Palmerston, which are the two largest cities in the Northern Territory.
IES Commitments
Charles Darwin University's Indigenous Engagement Strategy (IES) for the Education and Community Precinct (ECP) outlines key priority areas and deliverables, focusing on core objectives including collaboration, procurement and Indigenous employment. 
A central focus is ongoing engagement with the Larrakia community. This collaboration aims to showcase culture, establish cultural protocols, and explore potential work programs. Additionally, CDU will embrace a comprehensive review of the CDU Reconciliation Action Plan and related policies in its future endeavors. Cultural training for new CDU employees is also a priority to ensure a culturally sensitive work environment. 
During the construction phases of the ECP, CDU and its Funding Partners have committed to achieving a supplier use target of 3% for Indigenous businesses. 
CDU and its Funding Partners have also sought to achieve an Indigenous employment target of 8.8% during the construction phase of this transformative project.
IES Outcomes
The new Education and Community Precinct has included an Acknowledgment of Gulumoerrgin (Larrakia Seasons Calendar) Country within the main building entrance. The main foyer has Welcome to Country permanently featured in the ceiling, with Wayfinding and other public signage throughout various locations within the building being represented in English and Larrakia languages. 
CDU will name its Education and Community Precinct, 'Danala' the name for dillybag representing 'a place to house knowledge'. 
Through the main project construction to date, Indigenous employment has totalled about 13% of total project hours and over $570k procured through Indigenous suppliers. The earlier Package 2 Earthworks achieved 12% Indigenous Business spend. This outcome is four times the 3% contracted target.