Hastings Technology Metals
Yangibana Rare Earths Project
Explore the groundbreaking Yangibana Rare Earths Project by Hastings Technology Metals, transforming the Gascoyne region and Onslow, Western Australia. NAIF's $220 million loan drives this initiative, set to create 750 jobs and generate $1.33 billion in public benefit. Dive into the future of rare earth minerals.
Investment Decision
December 2022
Location
Gascoyne region and Onslow, Western Australia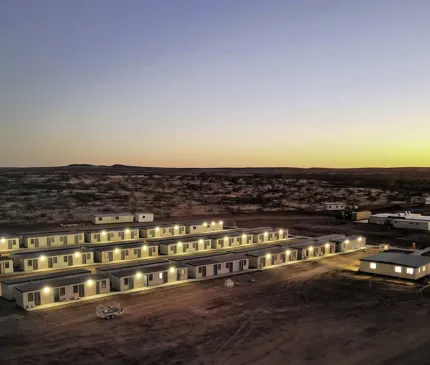 LOAN DETAILS
NAIF Loan Amount up to
$220m
Total Project Value
$1bn
Length of Loan
12.5 years
PUBLIC BENEFIT
$1.33bn
Forecast Jobs
750
Project Status
Investment Decision
NAIF's loan of up to $220 million will help develop the Yangibana Rare Earths Project, which comprises a mine site located in the Gascoyne region of Western Australia and a hydrometallurgical plant located in Onslow, Western Australia.
About Hastings Technology Metals
Founded in 2010, Hastings Technology Metals is a prominent Australian mining company specialising in rare earth elements. The company's flagship achievement is the Yangibana Rare Earths Project. 
The company's overarching mission is to establish itself as a leading global supplier of rare earth products for clean energy and advanced technologies.
Project overview
The Yangibana project will produce up to 15,000 tonnes a year of neodymium and praseodymium concentrate for the international market. These components are used in products ranging from electric vehicles to wind turbines and robotics.
How we helped
NAIF had previously approved a loan of $140 million, however a new agreement increased that amount to $220 million to reflect rising costs and the recent strength of magnet rare earth prices. Once developed, the Yangibana Project will establish Hastings as a significant supplier to the global critical minerals sector and generate strong returns for shareholders, local communities and the Australian economy.
Public impact
The Yangibana project is forecast to support approximately 500 jobs during construction and 250 roles in operations, and create an estimated $1.33 billion in net public benefit for the Greater Gascoyne region.
Other project benefits include a range of improvements to regional water infrastructure, roads, communication, and airstrip upgrades.
Indigenous Engagement
Traditional owners of this land
The Thiin-Mah Warriyangka Tharrkari Jiwarli people
The Thiin-Mah Warriyangka Tharrkari Jiwarli people are the Traditional Owners and the native title holders of the land underlying the Yangibana Project. The project lies across the Gascoyne Region and Pilbara Region of Western Australia. The Gascoyne Region encompasses the Shires of Carnarvon, Exmouth, Shark Bay and Upper Gascoyne.
Indigenous Engagement Strategy Commitments
Hastings' Indigenous Engagement Strategy (IES) encompasses commitments in key areas, including participation, employment, procurement, and community development. 
In acknowledgment of Hastings' dedication to its Indigenous stakeholders, namely the Thiin-Mah, Warriyangka, Tharrkari, and Jiwarli people, the company has voluntarily entered into a Native Title Agreement and partnership. This partnership serves as the foundation for all parties to collaborate toward achieving positive outcomes. 
Hastings aims to create employment opportunities for the Gascoyne region of Western Australia and aspires to attain a 10% Aboriginal employment rate at the project operations within the project's fifth year of commercial production. 
Additionally, Hastings has broader commitments to the community, encompassing infrastructure improvements in the Gascoyne region, such as roads, airstrips, and medical facilities. 
Furthermore, Hastings is committed to the rehabilitation and environmental management of the project's footprint, with the goal of enhancing ecosystem health in areas previously degraded due to pastoral activities.