James Cook University
Engineering & Innovation Place
James Cook University is being transformed with over $140 million in NAIF funding for the Engineering & Innovation Place and Halls of Residence projects.
Investment Decision
June 2018
Sector
Social Infrastructure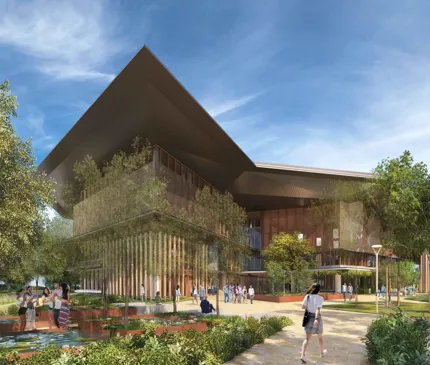 LOAN DETAILS
NAIF Loan Amount up to
$96m
Total Project Value
$174m
Length of Loan
25 years
PUBLIC BENEFIT
$700m
Forecast Jobs
270
Project Status
Financial Close
The JCU Engineering & Innovation Place (formerly called Technology Innovation Centre) is located in the city of Townsville, Queensland. On 15 June 2018, NAIF approved funding of up to $96 million for the Engineering & Innovation Place, where undergraduate and postgraduate engineering and IT students, industry partners and researchers will be able to collaborate.
About James Cook University
James Cook University (JCU) is a distinguished institution that takes pride in its four vibrant campuses: Townsville (Bebegu Yumba), Cairns (Nguma-bada), Mackay, Brisbane and Singapore. These strategic locations enable the university to deliver a comprehensive and globally oriented education in line with its pioneering spirit and unwavering dedication to academic excellence.
Project overview
NAIF has provided nearly $150 million in funding, through two Investment Decisions, to support James Cook University in Townsville. The first will finance the Engineering & Innovation Place as part of JCU's long-term strategy to modernise the Townsville campus, and accelerate the JCU Enterprise Bundle (the Engineering & Innovation Place, Townsville Campus Renewal and Townsville Central Plaza).
The Engineering & Innovation Place will be the centrepiece of an innovation hub in which undergraduate and postgraduate engineering and IT students, industry partners and researchers will converge and collaborate. 
Townsville Campus Renewal Project:
The Engineering & Innovation Place is part of a  broader series of projects, totalling $174 million, that will centre university activities around the Townsville Central Plaza to create a more vibrant campus heart. Research and innovation will be combined to support and benefit business and the community, while highlighting STEM, big data and analytics, information technology and technology transformation.
The Townsville Campus Renewal is a five-year, targeted program of works affecting more than 50 buildings across the campus. Learning and Teaching buildings will be refurbished while other ageing buildings will be decommissioned. 
Work on site is underway and the Engineering & Innovation Place is expected to open in December 2023.
The complex is adjacent to the new Halls of Residence Facility, which was also supported by NAIF through a separate loan of $46 million.
How we helped
NAIF's loan gave JCU the confidence to progress construction of Engineering & Innovation Place. The complex will deliver leading-edge STEM innovation, research and educational facilities for northern Queensland.
Public impact
James Cook University is expected to draw more regional and international engineering students to the area on completion of this project. The Engineering & Innovation Place project is forecast to create 270 jobs, and at least 80% of subcontractors and suppliers are expected to be sourced locally. According to a cost/benefit analysis, the public benefits from the Enterprise Bundle are estimated to reach approximately $700 million over the course of 30 years.
Indigenous Engagement
Traditional owners of this land
The Bindal people are the Traditional Owners of the lands on which James Cook University's Townsville campus is located. The Bindal people are part of the Birrigubba nation, and their lands extend from Ross River in the north, south along the coast towards the Burdekin River, covering the southern suburbs of the City of Townsville, as well as the towns of Ayr, Home Hill, Giru and Brandon in the Burdekin region. 
The Bindal people refer to their country as Thul Garrie Waja. One of the creeks running through JCU's Townsville campus is named Wadda Mooli Creek. Wadda Mooli means welcome and goodbye in the Birrigubba language, which is spoken by the Bindal people.
Indigenous Engagements Strategy
Commitments 
James Cook University's Indigenous Engagement Strategy (IES) comprises commitments in critical areas, including participation, employment, and community development. 
In terms of participation and employment, James Cook University is dedicated to achieving a 3% Indigenous employment target during the design, construction, and operation phases of the project. They emphasize ongoing engagement with the Bindal Traditional Owners throughout all project phases, including cultural heritage inductions. 
In the realm of community development, the commitment entails collaboration with a cultural consultant to facilitate the integration of Indigenous knowledge and designs into the project. This approach reflects the university's commitment to respecting and incorporating Indigenous perspectives and contributions into the project's development. 
Indigenous Engagements Strategy Outcomes
As of July 2023, some of the key outcomes delivered from James Cook University's IES include exceeding Indigenous employment targets in the construction phase of the project with 10.22% Indigenous employment recorded on site as of May 2023. 
JCU and BESIX Watpac (project contractor) have provided regular updates to key stakeholders, including to the Bindal community and have provided a number of senior BESIX Watpac staff and contractors with regular cultural awareness training throughout the construction phase.  

JCU is aiming to formally open the project in 2024, with its formal name, the Engineering and Innovation Place.