CQUniversity
Capex Project
Explore how NAIF's $76 million investment supports CQUniversity's capital expenditure program, enhancing campuses and remote learning through digital infrastructure.
Investment Decision
July 2020
Sector
Social Infrastructure
Location
Townsville, Mackay, Rockhampton, Emerald, Cairns, Gladstone, Charters Towers, Broome and Karratha.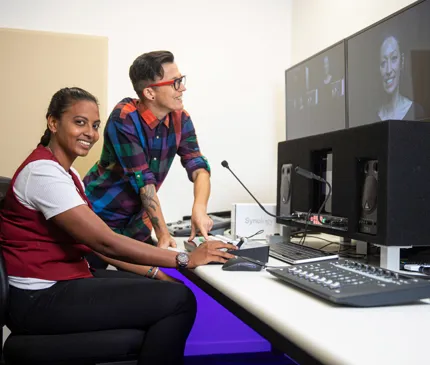 LOAN DETAILS
NAIF Loan Amount up to
$76m
Total Project Value
$76m
Length of Loan
20 years
PUBLIC BENEFIT
$71.8m
Forecast Jobs (Direct)
187
Forecast Jobs (Indirect)
287
Project Status
Financial Close
NAIF's loan of up to $76 million was made available to fund a package of capital expenditure programs at CQUniversity (CQU) over two years.
About CQUniversity
Originally founded in Rockhampton in 1967 as the Queensland Institute of Technology (QIT) Capricornia, CQUniversity Australia was granted full university status in 1992 and now has more than 30,000 students studying online and on-campus across Australia.
Project overview
NAIF's support is funding new construction works, upgrades and refurbishments across university campuses in the north, as well as new and upgraded digital platforms to improve delivery of remote learning.
NAIF stepped in with financial assistance to preserve the CQU capital expenditure program after the university projected a shortfall in future revenue caused by a sudden drop in international students due to the COVID-19 pandemic. With NAIF support, building works will be carried out at CQU sites in Townsville, Mackay, Rockhampton, Emerald, Cairns, Gladstone, Charters Towers, Broome and Karratha. The majority of the digital works will be undertaken at the university's Rockhampton headquarters, which is the home of the CQU information technology department.
How we helped
NAIF support for the capital and infrastructure programs at CQUniversity ensured the university was able to proceed with planned capital works and digital upgrades and continue to deliver quality higher education courses to students around the country, particularly in remote centres across northern Australia.
Public impact
The university forecasts that maintaining its plans for capital expenditure will contribute to supporting up to 187 direct and 287 indirect jobs within the northern Australia region over a two-year period, with a further 200 jobs saved. Total public benefit over the two years is forecast at $72 million. NAIF's support will make it possible for students to gain tertiary or vocational qualifications in the region, rather than having to move to southern capitals to study.
Indigenous Engagement
Traditional owners of this land
The Darumbal people are the Traditional Owners of Rockhampton, where Central Queensland University's main campus is located. The lands of the Darumbal people extend towards Shoalwater Bay in the north, the Fitzroy River to the West, to the coast towards Keppel Bay in the East, and towards Bajool and Marmor in the South.  
Their lands include major localities and communities in Central Queensland including Rockhampton and Gracemere in the south, Yeppoon, and Emu Park, on the coast to the East, and the town of Marlborough in the north. In July 2016, the Darumbal people's Native Title claim was determined and recognised by the Federal Court. 
Indigenous Engagement Strategy

Commitments
CQUniversity (CQU) is dedicated to a range of commitments under its Indigenous Engagement Strategy (IES). These commitments span crucial areas such as participation, employment, procurement, and community development. 
CQU is actively working on crafting and executing a comprehensive university-wide strategy for its participation, employment, and procurement goals within its IES. This strategy aims to enhance Indigenous access to education, foster employment opportunities, encourage community involvement, and support Indigenous enterprise development across all CQU campuses. Moreover, CQU is putting several programs into action to ensure consistent interaction between the University and Indigenous students and alumni. 
In regard to Community Development, CQU is committed to sustaining its partnership with the Woorabinda Aboriginal Shire Council. This partnership includes the establishment and operation of the Woorabinda Research Hub. Additionally, CQU is dedicated to the creation of an Indigenous Research Higher Degree Academy. This academy will sit within the Jawun Research Centre which will serve as a platform for promoting Indigenous research initiatives across all CQU campuses.
Indigenous Engagement Strategy
Outcomes
As of August 2023, key outcomes delivered from CQU's IES include the establishment of the Jilbay First Nations Research Higher Degree Academy in 2020 (growing from a cohort of 9 in 2020, to 16 in 2022). 
The continuation of a partnership with Woorabinda Aboriginal Shire Council and Yoonthalla Services Woorabinda, through a two-year Memorandum of Understanding to continue with the establishment of an education, enterprise, and research hub in the community. 
Other community development initiatives delivered to date include the launch of CQU's Innovate Reconciliation Action Plan, the launch of an online First Nations Cultural Competency induction program for CQU staff and the creation of the First Nations Council of Elders and Leaders which provides information and advice on cultural competency in relation to employees, students, policy documents procedure and governance. 
Procurement spend with First Nations suppliers for 2022 totalled $705,924 (2021: $651,516) an increase of $54,408.