Genex Power
Kidston Pumped Storage Hydro Project
Explore how NAIF's investment decision in July 2019 is driving the development of the Kidston Pumped Hydro Project, an innovative energy storage scheme within an abandoned gold mine, contributing to reliable and affordable electricity for northern Queensland.
Investment Decision
July 2019
Location
Kidston (near Georgetown), 270kms north west of Townsville.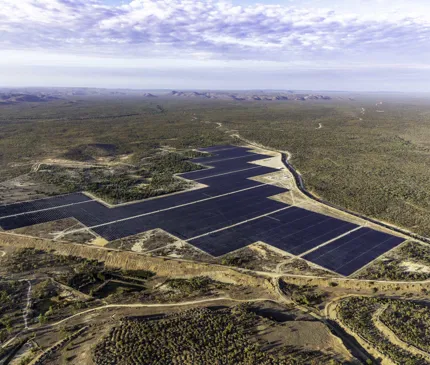 PUBLIC BENEFIT
$343m
Forecast Jobs
530
LOAN DETAILS
NAIF Loan Amount up to
$610m
Total Project Value
$777m
Length of Loan
15 years
Project Status
Financial Close
The Kidston Project is the first pumped hydro energy storage scheme globally to be developed in an abandoned gold mine. The project includes a contribution to the construction cost of the 186 km transmission line from the Kidston site to Mt Fox.
The project is NAIF's largest Investment Decision to date and involves a loan of up to $610 million. The project is forecast to create more than 500 construction jobs and deliver affordable, reliable electricity to North Queensland.
About Genex Power
Genex Power Limited is an ASX-listed company focused on developing a portfolio of renewable energy generation and storage projects across Australia.
The company's flagship Kidston Clean Energy Hub, located in North Queensland, will integrate large-scale solar generation with pumped storage hydro and wind energy.
Project overview
Kidston is essentially a giant battery, pumping water uphill when energy is abundant during off-peak periods and releasing it to create power in times of peak demand. The project is co-located at an existing 50 MW solar farm, and a larger solar farm at the same location is planned.
The project will buy and store power from the National Electricity Market when it is cheap and plentiful in off-peak periods. It will then sell it back to the market when prices increase in periods of high demand, typically in the morning and evening peak periods. This additional source of peak generation capacity will lead to lower average wholesale power prices, which flow on to end users through the competitive retail power market.
The energy storage project will provide dispatchable, reliable and affordable renewable energy to the grid.
Financial close on the project was achieved in May 2021. Construction activities carried out on site so far include the installation of accommodation units at the Oaks Rush accommodation village and at Kidston, upgrade of the access ramp to Eldridge Pit, and installation of a new communication system. Rock material sampling and testing for concrete production has been completed, and pumps are being mobilised on site to commence the initial dewatering of the Eldridge pit.
Project infrastructure includes:
186 km 275 kV transmission line.
New substations, switchyard and control building.
Dam construction.
Powerhouse cavern, two pumps/turbines.
Upgrade of local airstrip.
How we helped
The Kidston project is supported by NAIF's largest loan approved to date.
NAIF was an early supporter of the project. In 2018 NAIF conditionally approved a loan that helped Genex secure other support for the project, including from EnergyAustralia through a long-term off-take agreement, and an agreement with J-Power of Japan, conditional on the Kidston project closing.
Public impact
The project is forecast to contribute $343 million in net public benefit to the regional, state and national economies, including $235 million direct value-add for Far North Queensland. Benefits include:
wholesale market energy cost savings estimated at a present value of $500 million;
emission savings;
reliable, on-demand electricity
530 jobs.
Indigenous Engagement
Traditional owners of this land
The Ewamian people are the Traditional Owners of the land on which the Genex project is located. The lands of the Ewamian people extend over the Gilbert and Einasleigh river catchment areas, and include the localities of Georgetown, Mount Surprise, Forsayth and Einasleigh. 
Ewamian land is also home to landmarks such as Undara Volcanic National Park, Cobbold Gorge and Talaroo Hot Springs. In November 2013, the Ewamian People #2 and #3 Native Title claims were determined and recognised by the Federal Court.
Indigenous Engagement Strategy
Commitments 
Genex's Indigenous Engagement Strategy (IES) encompasses commitments in crucial domains, comprising participation, procurement, employment, and overarching responsibilities. 
Within participation, employment, and procurement, Genex is dedicated to achieving a 5% Indigenous employment target for both the construction and operational phases of the project. They are collaborating with the Ewamian Aboriginal Corporation (EAC) to develop an approved Indigenous supplier database, actively encouraging Indigenous supplier involvement in the project. 
The overarching commitments encompass ongoing collaboration with EAC throughout the project's duration. This partnership extends to establishing cultural protocols on-site, conducting cultural heritage surveys, and providing support for Ewamian-led programs and projects. 
Genex's IES reflects a comprehensive commitment to Indigenous engagement, with a focus on fostering opportunities, inclusivity, and cultural sensitivity throughout all project phases. 
Indigenous Engagement Strategy
Outcomes
As of July 2023, Genex's Indigenous Engagement Strategy (IES) has yielded significant outcomes. Notably, on-site Indigenous employment figures have surpassed the targeted goals, reaching an impressive 9.4% of the total project workforce. This achievement underscores the IES's success in promoting Indigenous employment opportunities. 
The IES has also fostered positive relationships with key partners, including the Ewamian Aboriginal Corporation and Australian Training Works, an Indigenous-owned Group Training Organization. These collaborations have played a pivotal role in facilitating employment and training services on the project, contributing to its overall success. 
Furthermore, Genex demonstrates its commitment to Indigenous engagement by serving as a major financial sponsor of the Talaroo Hot Springs tourism precinct. This development is owned by the Ewamian Aboriginal Corporation, highlighting Genex's support for Indigenous-led initiatives and community development.