Humpty Doo Barramundi
Farm expansion project
NAIF finance assisted in the recognition of northern Australia as a leading supplier of premium saltwater farmed barramundi. (Investment Decision 3 May 2018 and 10 September 2020)
Investment Decision
May 2018
Sector
Agriculture & Water
Location
Humpty Doo, Northern Territory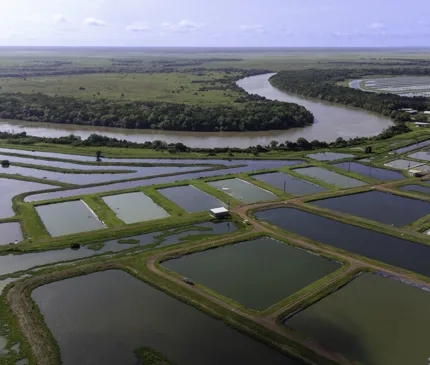 LOAN DETAILS STAGE 1
NAIF Loan Amount
$7.2m
Length of Loan
12.25 years
Total Project Value
$61.4m
LOAN DETAILS STAGE 2
NAIF Loan Amount
$24.2m
Length of Loan
13 years
PUBLIC BENEFIT
$158.6m
Forecast Jobs (Over stage 1 and stage 2)
291
Project Status
Operational
Humpty Doo Barramundi received two NAIF loans to help facilitate significant growth in the barramundi industry in the Northern Territory.
About Humpty Doo Barramundi
Since 1993, Humpty Doo Barramundi has been cultivating its exceptional saltwater barramundi fish on a family-owned farm by the majestic Adelaide River in the Northern Territory of Australia.
The company's ambition is to be Australia's foremost supplier of barramundi.
Project overview
NAIF's first $7.2 million loan for pond and nursery facilities helped Humpty Doo Barramundi to significantly increase its supply of Australian-grown barramundi.
Stage two of the expansion, supported by a further NAIF loan for $24.2 million, will enable the family-run business to take advantage of increased demand for high-quality Australian seafood.
This stage will also include the construction of a hatchery at Channel Island, which will be the first purpose-built commercial barramundi hatchery in the NT and will provide juvenile fish supply security.
The next stage of the expansion includes:
New infrastructure including ponds and improvements to existing facilities such as the nursery, packing shed, roads and electrics, including the addition of rooftop solar.
Creation of 111 construction jobs as the projects roll out, and a further 160 jobs from increased operations.
How we helped
NAIF finance assisted in the recognition of northern Australia as a leading supplier of premium saltwater farmed barramundi.
Small-scale agriculture is difficult to finance in the private sector, and NAIF finance, over two separate Investment Decisions, allowed fast tracking of this major Top End investment, which would not otherwise have been possible in the short term.
Public impact
The Humpty Doo Barramundi project delivers notable economic benefits and various other public advantages. This includes an expansion of production capacity to cater to the rising demand for fish, resulting in the creation of jobs during Stage 1, encompassing 13 construction positions and 7 permanent roles. Additionally, the project plays a pivotal role in expediting the growth of the Northern Territory's aquaculture sector by supplying fishlings and establishing potential multi-user processing capabilities in the future.
Indigenous Engagement
Traditional owners of this land
The Limilngan-Wulna people
The Limilngan-Wulna people are the Traditional Owners of the land on which Humpty Doo Barramundi is located. The Limilngan-Wulna people traditionally inhabited the lands between the Adelaide River in the west, and Kakadu National Park in the east. 
Their lands cover parts of the Darwin Rural Area, and include landmarks such as Djukbinj National Park, Mary River National Park, Fogg Dam, and Leaning Tree Lagoon. The Limilngan-Wulna people manage and protect many of the natural landmarks on their country, such as Djukbinj National Park.
Indigenous Engagement Strategy Commitments
Humpty Doo Barramundi's Indigenous Engagement Strategy (IES) encompasses commitments in crucial areas, namely participation, employment, procurement, and overarching responsibilities. 
In terms of participation, employment, and procurement, Humpty Doo Barramundi is committed to several key initiatives. These include promoting Indigenous business involvement and identifying contracting opportunities for Aboriginal-owned and operated enterprises. Additionally, there's a focus on creating a culturally safe workplace for all team members including Aboriginal individuals, facilitating their employment. The target is to increase Indigenous employee numbers to 10% of the total workforce. 
Regarding overarching commitments, Humpty Doo Barramundi aims to formalise strategic partnerships with key Indigenous organizations. These partnerships will promote employment and procurement opportunities, fostering collaboration and inclusivity. Furthermore, the company is dedicated to identifying opportunities to contribute to and support activities and events within Indigenous communities, enhancing their engagement and support.  HDB has engaged in dialogue with several communities around how it can best support aquaculture activities within Indigenous communities. 
Indigenous Engagement Strategy
Outcomes
As of May 2023, Humpty Doo Barramundi's Indigenous Engagement Strategy (IES) has achieved notable outcomes. These accomplishments include working with organisations such as the Saltbush and the NT Seafood Council to promote employment and training pathways. Programs like "Watch it Grow" have played a crucial role in this endeavor. 
 Humpty Doo Barramundi also aims to share opportunities with Aboriginal people through Indigenous-owned companies. As a member of NT Indigenous Business Network they are able to ensure opportunities for contract work are available to Aboriginal people in business. 
Additionally, Humpty Doo Barramundi has collaborated with the Limilngan-Wulna-owned business, Pudakul Aboriginal Cultural Tours. Together, they have enhanced cultural competency in the workplace and worked towards creating a flexible and culturally safe environment for Indigenous employees. 
The company has actively participated in Indigenous student career days at Casuarina Senior College. They have also organised site visits and structured work experience placements for students from Clontarf and Stars Academies from Palmerston College, Sanderson Middle School and Taminmin College. These initiatives offer valuable opportunities to young students aspiring to be involved in the field of aquaculture.