Mater Health
Multi-storey Carpark
Discover Mater Private Hospital Townsville's completed multi-level car park project, a milestone achieved by Mater Health in North Queensland.
Investment Decision
March 2020
Sector
Social Infrastructure
Location
Townsville, QLD (Gurambilbarra)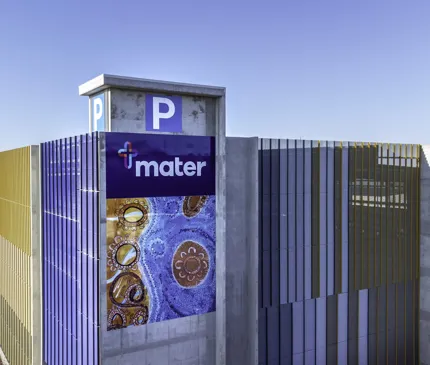 LOAN DETAILS
NAIF Loan Amount up to
$19.8m
Total Project Value
$19.8m
Length of Loan
20 years
PUBLIC BENEFIT
$7.6m
Forecast Jobs
14
Project Status
Operational
NAIF's $19.8 million loan played a crucial role in the completion of the Mater Health Multi-level Car Park project in Townsville, QLD.
This transformative project, now successfully completed, stands as a testament to Mater Health's dedication to enhancing the region's social infrastructure, creating employment opportunities, and fostering public benefit.
About Mater Health
With 19 locations across Queensland, Mater Health provides compassionate healthcare in response to changing community needs. 
Mater Health collaborates with Mater Research and Mater Education to develop new methods, practices and techniques for better patient outcomes.
Mater Private Hospital Townsville is a not-for-profit entity contributing over $190 million in economic activity to North Queensland. An integral part of the Mater Health network, the hospital has a rich history and is strongly committed to providing superior medical services in the region. 
Mater Private Hospital Townsville's state-of-the-art facilities, cutting-edge technology, and team of highly skilled medical professionals make it a leading healthcare destination. The hospital's patient-centric approach, coupled with a focus on innovation and continuous improvement, ensures that individuals receive the highest standard of care.
Project overview
The project forms part of Mater Private Hospital Townsville's $116 million Pimlico campus staged redevelopment under the Pimlico Masterplan, and resulted in the addition of a new six-level car park to the Mater Hospital.
How we helped
NAIF's loan of $19.8 million was used to finance the accelerated development of the car park, which has assisted in reducing congestion in surrounding neighbourhoods and improving employee safety.
Public impact
Forecast $7.6 million in quantifiable public benefit. In addition to the calculated benefit, the car park will reduce congestion in surrounding streets and provide convenience for patients and visitors, as well as improved safety for staff.
The project is expected to create 12 full-time jobs during construction and opportunities for up to 40 local apprentices and up to 740 subcontractors. A further two full-time ongoing jobs will be created during operations, as well as other indirect jobs due to the improved car parking amenities on offer.
Indigenous Engagement
Traditional owners of this land
The Wulgurukaba people are the Traditional Owners of the land on which the Mater Private Hospital Townsville is located. The Wulgurukaba people's lands cover most of the urban core of the City of Townsville, north of the Ross River, and extend north towards the locality of Rollingstone. 
The Wulgurukaba people also inhabited nearby Magnetic Island and used canoes (Wulgurukaba means canoe people) to traverse the waters of Cleveland Bay. Wulgurukaba referred to their country around the City of Townsville as Gurambilbarra, while they referred to Magnetic Island as Yunbenun.
Indigenous Engagement Strategy
Commitments 
Mater's Indigenous Engagement Strategy (IES) encompasses commitments in key areas such as participation, employment, procurement, and community development. 
Regarding participation, Mater is dedicated to achieving an Indigenous employment target of 3% during the construction phase. They have also implemented a two-phase procurement process aimed at enhancing Indigenous contracting and participation within the project's supply chain. 
Furthermore, Mater has made significant commitments to education and student support. They have pledged to support up to ten scholarships for Aboriginal and Torres Strait Islander students pursuing a Diploma of Nursing. Additionally, they are providing support for Indigenous students undertaking studies in Certificate II and III in Primary Health, including work experience opportunities. 
Mater's community development initiatives include the establishment of a local Aboriginal and Torres Strait Islander Reference Group, the development of a Reconciliation Action Plan, and efforts to improve the cultural competency of staff. These efforts are focused on providing training and educational opportunities to enhance Mater's capacity for Indigenous engagement. 
Indigenous Engagement Strategy Outcomes

 
As of February 2023, some of the key outcomes delivered from Mater's IES to date includes exceeding Indigenous employment and procurement targets during the construction phase of the car park project (include figures here). 

Mater has also established good links with local organisations such as Cowboys House, to promote employment and training pathways into the health sector and supported scholarships for Aboriginal and Torres Strait Islander students undertaking a Diploma of Nursing, as well as supporting work experience opportunities for Indigenous students undertaking studies in Certificate II and III in both Primary Health and Hospital Administration. 

Mater also commissioned and unveiled a three-story tall public art piece, which was is located along the side of the completed car park, which was created by Gail Mabo, and reflects the Townsville region's four traditional owner groups – the Wulgurukaba, Bindal, Nwyaigi, and Gugu-Badhun people.