Metro Mining
Bauxite Hills Mine Stage 2 Expansion
Discover how NAIF's $47.5 million loan fuels Metro Mining's Bauxite Hills Mine Stage 2 Expansion, including a new floating terminal. 
Investment Decision
November 2019
Location
95km north of Weipa, QLD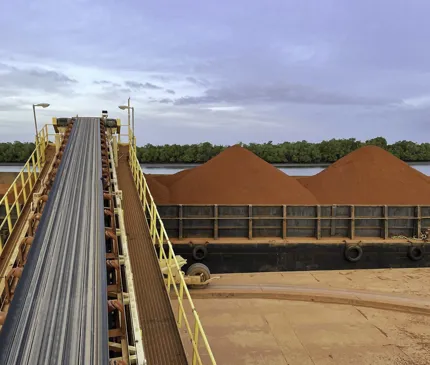 LOAN DETAILS
NAIF Loan Amount up to
$47.5m
Total Project Value
$56.6m
Length of Loan
9 years
PUBLIC BENEFIT
$510m
Forecast Jobs
60
Project Status
Contractual Close
The $47.5 million NAIF loan offer will enable new infrastructure that allows Metro Mining to load larger vessels as part of its planned Bauxite Hills Mine Stage 2 Expansion project.
About Metro Mining
Metro Mining is a prominent Australian mining company with a specialised focus on mining bauxite, a crucial element in the production of aluminium. Metro Mining undertakes the extraction and export of bauxite ore, playing a pivotal role in the global aluminium supply chain.
The company's core operations encompass not only the extraction of bauxite ore but also the efficient transportation of this vital resource to port facilities for export. Metro Mining caters to customers in influential aluminium-producing countries such as China, contributing significantly to the worldwide aluminium industry.
Project overview
NAIF's investment will fund a new floating terminal for Metro Mining on the Skardon River in north-western Cape York.
The operation is located about 95 km north of Weipa, where the company holds a total tenement package covering about 1900 km². Mining commenced in April 2018 and the Bauxite Hills mine has an estimated reserve of 109.5 million tonnes. Mining operations are only undertaken during the dry season.
Bauxite is mined by front-end loaders, trucked to a port area, screened down to a maximum size of 100 mm, then fed onto a barge loading facility and into barges. Those barges are towed down the river, where the bauxite is transhipped to freight vessels.
The mine employs 246 people, but this new infrastructure will take the total workforce at the mine to more than 300. Nearly 40% of the current workforce is Indigenous.
Infrastructure includes construction and mobilisation of a floating off-shore terminal as part of the Bauxite Hills Mine Stage 2 Expansion Project, expanding current production from 3.5m wtpa, to 6m wtpa.
How we helped
Our commitment to Metro Mining shows how NAIF funding supports economic and social development in northern Australia. Metro Mining has an established track record of providing employment opportunities in the Cape York region.
Public impact
Independent analysis forecasts that the infrastructure funded by NAIF's loan will generate approximately $510 million in economic benefits for the region over the 16-year operational life of the mine.
The investment will be a significant boost for businesses in Cape York and in Far North Queensland. Metro Mining currently has over 100 suppliers and 95% of them come from North Queensland. Two-thirds of Metro Mining's expenses are paid to businesses in North Queensland. Under NAIF's terms, proponents must have local participation plans to maximise the involvement of local employers and suppliers.
The project is expected to create 60 new permanent jobs at the mine.
Indigenous Engagement
Traditional owners of this land
The Ankamuthi People are the original inhabitants of the land at which Bauxite Hills Mine is located.
Indigenous Engagement Strategy Commitments
Indigenous Engagement Strategy supports the continuation of the current indigenous participation rate of over 38 per cent through implementation of the Traditional Owner Employment Strategy, preferential employment of Ankamuthi Traditional Owners (once core competencies are met) and supporting at least five Ankamuthi trainees per year.
Other Indigenous commitments include ongoing Liaison Committee meetings, employment of two Ankamuthi Community Liaison Officers, and support for Indigenous enterprise development opportunities.