Perdaman, Water Corporation and Pilbara Ports Authority
Perdaman Urea Project and supporting infrastructure
Explore the Perdaman Urea Project, backed by NAIF's $220 million investment. Learn how it's set to revolutionise the fertiliser industry, boost local manufacturing, and create thousands of jobs in Western Australia.
Investment Decision
August 2022
Location
Pilbara region, WA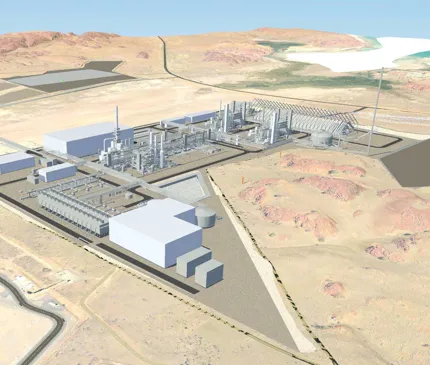 LOAN DETAILS: Perdaman
NAIF Loan Amount up to
$220m
Length of Loan
7 years
LOAN DETAILS: Water Corporation
NAIF Loan Amount up to
$95m
Length of Loan
25 years
LOAN DETAILS: Pilbara Ports Authority
NAIF Loan Amount up to
$160m
Length of Loan
25 years
LOAN DETAILS: Overall
Total Project Value
$6.5bn
PUBLIC BENEFIT
$8.5bn
Forecast Jobs
2,490
Project Status
Contractual Close
A new era of fertiliser production is about to begin thanks to NAIF's commitment of up to $220 million to the Perdaman Urea Project, up to $95 million to Water Corporation for their Burrup seawater brine disposal scheme, and up to $160 million to the Pilbara Ports Authority expansion of Port Dampier.
About the proponents
Pilbara Ports Authority
Pilbara Ports Authority (PPA) is responsible for managing and operating the world-class ports of the Pilbara region. With a focus on facilitating maritime trade, PPA plays a vital role in connecting resource-rich areas to global markets.
Renowned for its strategic port management, Pilbara Ports Authority contributes significantly to the economic growth and development of Western Australia.
Water Corporation
Water Corporation is, as Western Australia's leading water utility, dedicated to delivering high-quality water services to its communities. With an unwavering commitment to sustainability and innovation, Water Corporation ensures the availability of clean and reliable water resources, supporting the region's growth, prosperity, and environmental well-being.
Perdaman
Perdaman is an Australian chemical and fertiliser company with a strong emphasis on innovation and sustainability. Specialising in the production of ammonia and urea, Perdaman contributes to agricultural advancement by supplying essential fertilisers. Through its commitment to cutting-edge technology and environmental responsibility, Perdaman plays a pivotal role in driving both economic and ecological progress.
Project overview
NAIF has committed a $220 million loan to support the development of the Perdaman Urea Project in Western Australia. It will be the largest urea plant in Australia. 
The $6.5 billion project located 20 km north-west of Karratha will produce approximately 2 million tonnes of urea per year and kickstart a new multi-billion-dollar fertiliser industry. It is expected that just under half the urea will be kept in Australia, with the balance shipped to the Asia-Pacific, Brazil and USA. 
NAIF's latest investment builds on two previous loans worth $255 million towards key infrastructure servicing the project. 
IN 2021 NAIF committed $160 million to the Pilbara Ports Authority for a new multi-user wharf and facilities at the Port of Dampier, and $95 million to the Water Corporation for the expansion of the Burrup seawater supply and brine disposal scheme. 
The Perdaman Urea Plant is considered transformational for Western Australia, having been awarded Major Project Status by both the Australian and Western Australian governments. 
The NAIF loan will be provided via the WA Government. Funding will only be released when all required regulatory approvals and financing conditions have been met.
How we helped
NAIF's investment will help kickstart a multi-billion dollar fertiliser industry in Australia. The Perdaman Urea Project in Western Australia will be the largest urea plant in Australia and will have the capacity to reduce imported volumes and secure local farmers' access to fertiliser that is vital to ensuring food security.
Public impact
The projects will support the diversification of the Pilbara economy by developing domestic manufacturing. 
The Perdaman plant is expected to provide an $8.5 billion public benefit, supporting approximately 2,500 construction and operations jobs over its 40-year life.
Indigenous Engagement
Traditional owners of this land
The Ngarluma, the Mardudhunera, the Yaburara, the Yindjibarndi, and the Wong-Goo-Tt-Oo people
The Ngarluma, the Mardudhunera, the Yaburara, the Yindjibarndi, and the Wong-Goo-Tt-Oo are the traditional owners of the surrounding area. Collectively, they form the Murujuga Aboriginal Corporation (MAC), which is dedicated to preserving and protecting Murujuga's land, heritage and culture, while working towards enhancing the well-being of its communities.
Murujuga is the Ngarluma-Yaburara language name of the peninsula and 42 islands located near the town of Dampier in the Pilbara region of Western Australia. Murujuga means "hip bone sticking out" and describes the shape of the peninsula and islands.
IES Commitments
Perdaman
Perdaman's commitments encompass various aspects of Indigenous engagement and support for the local community. They partner with educational foundations like the Stars Foundation and Clontarf Foundation through their engineering, procurement, and construction (EPC) contractor, providing Indigenous students with valuable work experience and opportunities. 
In terms of community involvement, Perdaman actively participates in several events and initiatives, including Supplier Briefings, Supply Nation networking events, KDCCI presentations, and more. They are committed to reviewing supplier databases to identify Indigenous Suppliers and Subcontractors, collaborating with Traditional Custodian-owned businesses relevant to the project, and attending sessions hosted by the city of Karratha to inform Indigenous Businesses about opportunities. 
To support Indigenous businesses, Perdaman and their EPC contractor will host information sessions, maintain regular contact with registered businesses, attend industry forums, offer mentoring through the Pilbara Indigenous Business Network, and provide dedicated support for prequalification requirements. They will also assist in developing and implementing project systems and advise on employee and industrial relations requirements. 
To remove barriers for Indigenous businesses, they will structure packages to suit local capabilities, assess the viability of sole source arrangements, modify documentation to enhance opportunities, and promote the use of Indigenous contracts. 
Successful contractors will provide ongoing reporting on contracts, Indigenous employment, and workforce demographics. Perdaman seeks to provide traineeships and apprenticeships in various fields for Indigenous individuals and aims for at least 3% Aboriginal and Torres Strait Islander employment on the Project. 
They also plan to implement a mentoring program for Indigenous employees and review and revise plans in consultation with the Murujuga Aboriginal Corporation. 
Additionally, they will provide funding for the Murujuga Living Knowledge Centre, support the Murujuga Future Fund, and apply for UNESCO World Heritage Listing of the Burrup Rock Art. Under conditions in their EPA agreement, Perdaman commits to reporting non-achievements, investigating causes, and providing reports as necessary.
Pilbara Ports Authority
Pilbara Ports Authority 's commitments focus on collaborating with the local Aboriginal community and supporting Indigenous businesses. They aim to regularly engage with Traditional Owners, providing opportunities for Aboriginal community members to access employment, skills development, funding, and other initiatives initiated by PPA. 
PPA actively participates in events and trade expos organized by the Pilbara Indigenous Business Networking Group (PIBNG) to promote Indigenous business initiatives and partnerships, showcasing their commitment to Indigenous engagement. 
Furthermore, PPA places a strong emphasis on cultural awareness and respect by offering Cultural Heritage Awareness and Working with Respect training to all employees. This training ensures that their workforce is culturally sensitive and informed. 
PPA also provides continuous support and skills training to local community groups, particularly the Murujuga Land and Sea Ranger units. This support enhances the capacity of these local communities to effectively manage and preserve their land and sea resources. 
In terms of employment, PPA is striving for a minimum of 15% of the project's total work hours to be contributed by Aboriginal employees or trainees. These individuals may serve as direct employees of the head contractor or work for sub-contractors. Additionally, PPA aims to allocate a minimum of 5% of the tender value to Aboriginal-owned businesses, including sub-contractors and suppliers, further bolstering the Indigenous business sector. 
To ensure the ongoing observance of cultural heritage protocols, PPA commits to regular reviews of its Cultural Heritage Management Plan in collaboration with Traditional Owners, with a review cycle occurring at least every two years. This process ensures the continued respect and preservation of Indigenous cultural values and heritage throughout the project's duration.
Water Corp
WaterCorp 's Indigenous Engagement Strategy outlines several commitments.Firstly, the commitment involves early and continuous engagement with MAC throughout the project's lifecycle, ensuring ongoing collaboration and consultation.  
Cultural awareness training is mandated for all project participants, both employees and contractors. This training is tailored to individual involvement levels, emphasizing cultural sensitivity. 
A goal is set to allocate a portion of contracts, equivalent to 3.2%, to Aboriginal and Torres Strait Islander-owned businesses, supporting Indigenous entrepreneurship. 
Water Corporation's Aboriginal procurement strategies will be executed through 'meet the buyer' sessions in Karratha, creating opportunities for local Aboriginal contractors and suppliers, stimulating economic development within the Indigenous community. 
Furthermore, there is a target to achieve a minimum of 6% Indigenous employment at the Karratha depot, promoting job opportunities and workforce diversity. 
The Program Director for Aboriginal Strategy will continue to oversee Aboriginal commitments, fostering alignment, accountability, and visibility among ongoing initiatives such as the Reconciliation Action Plan, Aboriginal Affairs business unit, Aboriginal Community Engagement team, and Board representation. 
Lastly, an annual IES review in collaboration with Traditional Owner reference groups ensures the strategy remains relevant and effective, meeting the needs and expectations of the Indigenous community while supporting sustainable development.