Alinta Energy
Chichester Solar and Gas Hybrid Project
Learn about the NAIF loan to Chichester Solar Gas Hybrid Project by Alinta Energy, public benefits, Indigenous engagement, and economic impacts.
Investment Decision
February 2019
Location
Mount Sheila, WA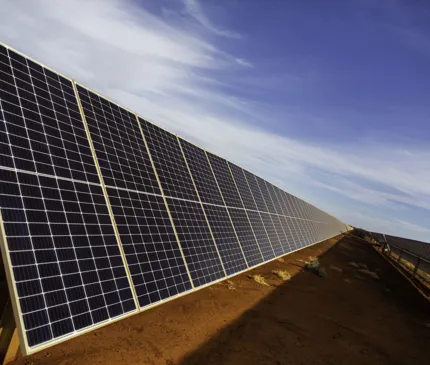 LOAN DETAILS
NAIF Loan Amount up to
$90m
Total Project Value
$188m
Length of Loan
22 years
PUBLIC BENEFIT
$22m
Forecast Jobs
200
Project Status
Operational
After years of planning and negotiation, construction on the ground-breaking Chichester Solar Gas Hybrid project began in 2020. The project was completed in December 2021.
About Alinta Energy
Alinta Energy is an Australian energy company founded in 1995. It specialises in electricity generation, gas retailing, and electricity retailing.
The company operates power stations across Australia, producing electricity from various sources, including natural gas, coal, and renewables.
Project overview
This project involved building a new solar photovoltaic generation facility at the Fortescue Metals Group's Chichester Hub iron ore operations. It also included the construction of a 60 km transmission line linking Fortescue's Christmas Creek and Cloudbreak mining operations in the Pilbara with the existing high voltage transmission network and Newman gas-fired power station and 35 MW battery facility. 
The project is expected to displace 100 million litres of diesel generation annually from the Pilbara, delivering a cleaner, more affordable, and more connected energy supply. 
Other infrastructure included:
60 MW solar photovoltaic power station.
Transmission infrastructure.
Switchyards.
Substations to supply electricity.
How we helped
NAIF's $90 million loan is provided on the basis of concessional longer tenor and lower pricing than would be generally available from commercial financiers. This improves the project's cost competitiveness against cheaper options with no renewables that would generate much lower public benefit.
Public impact
Deloitte Access Economics, in an independent cost-benefit analysis, forecast public benefits of $221 million generating around 200 jobs during the construction phase.
The project is an important step towards a broader interconnected network across the Pilbara, with the potential to improve accessibility, efficiency, reliability and costs of power across the region for both businesses and residents.
Australian Industry Participation
Australian Industry Participation (AIP) requirements ensure full, fair, and reasonable opportunity for Australian industry to compete for work. This includes work in major public and private projects in Australia, and procurements or projects receiving Australian Government funding of $20 million or more.
NAIF projects must comply with the Australian Government's  AIP policy.
Read about the AIP Plan for this project.
Indigenous Engagement
Traditional owners of this land
The Nyiyaparli people are the Traditional Owners of the land on which Chichester is located. The Nyiyaparli have inhabited their lands for over 40,000 years and their lands cover almost 40,000 square kilometres of the Pilbara region of Western Australia, and includes the towns of Newman, Jigalong and Parnpajinya. In September 2018, the Nyiyaparli people had their Native Title claim determined and recognised by the Federal Court.
Indigenous Engagement Strategy Commitments
Alinta Energy's Indigenous Engagement Strategy (IES) encompasses commitments across key areas, including participation, procurement, employment, community, and Indigenous development. 
In relation to participation, procurement, and employment, Alinta Energy has an Indigenous Participation Plan that establishes a minimum target of 3% of project hours to be worked by Indigenous personnel. 
Furthermore, Alinta Energy is dedicated to collaborating with the Nyiyaparli community to identify employment and procurement prospects while safeguarding and preserving cultural heritage. In a testament to their commitment, Alinta ensures that all its employees, project contractors, and partner organizations undergo cultural awareness training in collaboration with the Nyiyarparli people. This commitment underscores their determination to foster meaningful engagement and respect for Indigenous culture and traditions. 

Indigenous Engagement Strategy Outcomes
As of February 2023, Alinta Energy's Indigenous Engagement Strategy (IES) has achieved significant milestones, demonstrating a commitment to Indigenous inclusion and community support. 
 
During the construction phase of the project, Alinta allocated a procurement spend of $4.7 million to Indigenous businesses, fostering economic growth and collaboration. 
 
To enhance Indigenous engagement, Alinta has established the project's Indigenous engagement and Nyiyaparli Relationship Committees. These committees facilitate ongoing communication with the Karlka Nyiyaparli Aboriginal Corporation, leading to project-specific Indigenous engagement outcomes. 
 
Furthermore, Alinta has contributed $30,000 to Indigenous mentoring and cultural awareness programs through the establishment of the Alinta Community Grants program. This support underscores their dedication to empowering Indigenous communities. 
 
Notably, 86 Alinta Energy employees, spanning all operational units, have completed the Coongan Nyiyaparli Cultural Awareness training to date. Additional training sessions are scheduled for 2023, emphasising their commitment to building cultural awareness throughout the organisation. These achievements exemplify Alinta Energy's efforts in driving positive change and fostering inclusive practices.